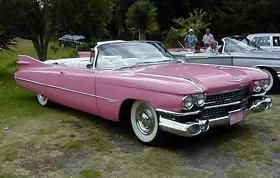 We should all pray to whatever gods there may be that the Rams' new Cadillac is half as sweet as this one.
The
Rams
put what will probably be their finishing touches on the offseason yesterday, signing
Cadillac Williams
to what appears to be a one-year deal. By adding Williams, the Rams went from having an enormous hole in terms of running back depth to having a solid, deep backfield (sounds dirty, doesn't it?), that should provide both flexibility and a solid dose of insurance against
Steven Jackson
missing time.
Williams is very much the sort of primary backup the Rams needed to find even after bringing in Jerious Norwood. As it stands now, Cadillac should be able to spell Jackson every few series, occasional third down situations, and the like. Norwood should see a handful of touches per game, either carrying the ball or working as a receiver. Pretty much the standard scatback assignment.
Whether rotating in a pair of backs to spell SJ39 will result in better health for him remains to be seen, but having three productive options at the position should definitely help the Rams' overall rushing attack be more robust this season.
-- I wrote yesterday about
the New York Giants' defensive end Osi Umenyiora
and his desire to be traded, wondering if the Rams should try to make a move for him. Well, it now appears it doesn't much matter if the Rams would have interest or not,
because Umenyiora is staying put in the Meadowlands
.
I have to admit, I was more than a little nervous yesterday morning when there were a few reports here and there which suggested
the Seahawks might be close to bringing in Umenyiora
. Seattle has already done some very nice work this offseason in upgrading their team (with the notable exception of
the quarterback position
), and picking up Osi Umenyiora would have been a huge add for their defensive line.
Unfortunately for pretty much everyone, the Giants are just going to hang on to their player. I suppose it makes sense if they plan on finally giving him that new contract he's been looking for the past couple years, but if not I just don't understand the logic.
-- On Tuesday afternoon, I found myself out near Rams Park and decided I would make my way over to watch some of the late practice. I wasn't able to stay long, and it was rather impromptu, so I apologize for the lack of camera and those sorts of things. However, two players did grab my attention even in the very limited amount of time I was able to be there.
Brandon Gibson looked magnificent. I had read a couple of other reports here and there that he looked good, and I was not disappointed. He caught anything and everything thrown anywhere near him, looking like he had applied large amounts of that stickum stuff they used to use back in the 70s. I've been a fan of Gibson's since the Rams picked him up two seasons ago, and after seeing how good he looked in practice I'm very excited to see if he might be poised for a breakout season. It is his third year in the league, after all, and receivers seem to have an odd proclivity for breakouts in year three.
The other player that immediately grabbed my notice was a tall, somewhat lanky tight end named Schuylar Oordt. I had no idea who the kid was, and actually had to check the number against the Rams' website on my phone to figure out his identity.
The team was just running drills and a fairly light scrimmage, so not much of anything that happens on the field right now is hugely meaningful, but I have to say this kid looked fantastic. He's a little on the thin side, looking more like an overgrown receiver than an authentic NFL tight end, but he was open on nearly every single play run. You know how some athletes look like they're moving a mile a minute, and then there are others who just sort of gracefully glide around, and you don't realise just how fast they're moving until they do something amazing? Oordt looked a little like that to me.
I really don't know much of anything about the kid, so I fired up the Google and discovered he was an undrafted free agent out of
Northern Iowa
, the same school that produced another Rams player by the name of
Kurt Warner
. The scouting reports praise his hands and speed, while nicking him for a lack of bulk and functional strength. That jibes pretty well with how he looked to me in a very limited showing. He also has a little
Chase Coffman
in him, as well, apparently,
as he likes to jump over defenders
.
I have no idea if Schuylar Oordt has any kind of future in the NFL or not, but seeing as how I get paid to tell you what I think or see about the world of sports, there's my scouting report. Some kid who went undrafted out of a Missouri Valley Conference school was on the field with a bunch of NFL-caliber athletes Tuesday, and he was somehow the most impressive player on the field. At the very least, I'll be watching Oordt the rest of camp to see if he can make the kind of impression on the coaching staff he did on me.
Hell, the awesome name alone should be enough to get him to the NFL.
Here's an interview Oordt did at the NFL Combine. Seems like a decent kid. Not too hard on the eyes, either. Just saying.