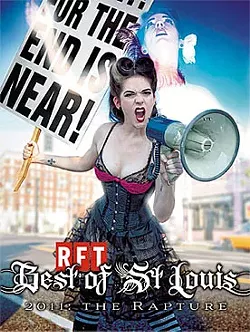 Help make our remaining time in St. Louis (and Earth) the best ever.
It's that time of the year again. Time to cast your ballot for
Riverfront Times'
annual "Best of St. Louis" issue.
This year's theme is the "The Rapture." You know, because the
world was supposed to end
on May 21. When that didn't happen, the date was
pushed back to October 21
, which happens to be just a month before our Best Of issue hits the stands.
Sadly, that will leave you just a few weeks to take advantage of everything there is to do and see in St. Louis as detailed in this year's Best of St. Louis guide. But with your help, we hope to make our last few days worthwhile.
So, what are you doing? Time's a wasting.
Cast your ballot now.