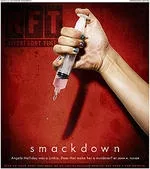 In this week's feature story, "Smackdown," we chronicle the life of Angela Halliday, a self-described heroin junkie from Bethalto, Illinois, who's now facing drug-induced homicide charges for her alleged role in a drug deal that led to an acquaintance's fatal overdose.
"Smackdown" doesn't delve into too many details about the actual case; it's more an attempt to bring awareness to the region's heroin epidemic, frame the debate surrounding drug-induced homicide laws and explore the psychology of addiction.
That said, we learned many details about the Halliday case through court documents, death reports, coroner's inquests and several interviews. Following is a deeper look into the couple's daily drug runs, the April 11 drug run that led to Berkenbile's death, the sheriff's investigation that followed, and the case that's been made against Halliday.
During the peak of their addictions, Halliday and her boyfriend, Josh Rogers, had made drug runs into St. Louis and north St. Louis County every day, sometimes twice a day. By Halliday's count, the couple knew about twelve drug dealers in the area, whom they christened with nicknames depending on the streets on which they operated.
Halliday explains they'd often get "put on the shelf," meaning they'd be forced to wait in their parked car until a dealer or courier arrived with a bundle. Sometimes, during long waits, other street-dealers might approach them and with a sales pitch: "girl or boy," which refers to cocaine and heroin, respectively.
A "hundred-pack" of heroin costs $100 and typically includes twelve capsules -- also called "buttons" or "beans" -- stuffed inside the snipped-off corner of a plastic baggie. Most capsules are filled with heroin that's been cut with another filler, such as the sleeping aid Dormin.
On April 11, the couple solicited a ride from Berkenbile, offering him a few Xanax in exchange. Later that night, Berkenbile died from a heroin overdose. A month later, drug-induced homicide charges were brought against Halliday.
So what evidence will prosecutors use against her?
Nikki Strasen, another friend who met up with the trio later that night, tells Daily RFT that Halliday cooked up a shot for Berkenbile while he was driving -- an alleged act that Dixon refers to in the coroner's inquest. (See a link to the transcript at the bottom of this page.) Halliday, who admittedly has no memory of that portion of the night, rejects Strasen's claim, explaining that junkies don't cook up other users' shots because of the temptation to skimp on the dosage and selfishly save the rest for themselves. (It's unclear whether the injection Berkenbile got in the car contributed to his eventual overdose; just before he died, he'd done a second shot, and perhaps a third.)
Otherwise, prosecutors might try to prove that Halliday introduced Berkenbile to her drug dealer and that it was the introduction that led to his death -- or they might try to prove that Halliday's Xanax helped pay for Berkenbile's fatal dose of heroin.
It's hard to say whether those arguments will satisfy a jury, considering that the Illinois drug-induced homicide statute defines the criminal act as "unlawfully delivering a controlled substance to another" (emphasis added).
"It's a real stretch," Madison County Public Defender John Rekowski tells Daily RFT.
Read the inquest transcript here. We redacted some of the medical information about Berkenbile, along with his address, the names of the jurors, the names of other acquaintances, and the nickname of the St. Louis drug dealer involved in the transaction.