Jennifer DeJournett conducts the VOICES of Conservative Women's Presidential straw poll, won by Michele Bachmann.
Sarah Palin was not present at the third annual Smart Girl Summit, which took place last Friday and Saturday at the Crowne Plaza downtown (not, as was reported by The Daily Beast, in Louisville). Neither was Michele Bachmann. Or even Ann Coulter.
It seemed almost ungracious for Bachmann and, especially, Palin to fail to make an appearance at a conference that was inspired directly by them. Their names were frequently invoked as inspiration for other women's political careers. Their images were admired on the big screen: Bachmann in Fire From the Heartland on Friday, Palin in The Undefeated on Saturday. (Fire From the Heartland is a straight-to-DVD project by Citizens United Productions, "America's premier conservative film production studio." The Undefeated recently flopped spectacularly at the box office and will be released on DVD and pay-per-view by the end of the month.) The 300 attendees even chose Bachmann as their Presidential candidate in a straw poll.
But in the absence of their actual leaders, the Smart Girls resorted to a celebration of political girlishness. The two closing speeches, the best spots on the speaking schedule, went to men -- internet publisher Andrew Breitbart on Friday, 2012 Presidential candidate Herman Cain on Saturday -- while the girls settled for supporting roles. After all, behind every great man is a great woman, right? Anyway, women have less time for running the country because they've got the most important job in the world: Staying at home with their children and grandbabies.
And yes, there was a smattering of pink suits in the grand ballroom.
The straw poll, a last-minute addition to the agenda, became the convention's biggest news hook. Jennifer DeJournett, cofounder and president of VOICES of Conservative Women and also chief pollster, pointed out that women outvote men at a rate of five percent. Her poll is the first of its kind: a chance to ask conservative women to select their favorite Presidential candidates (Republican only, it goes without saying) early in the election process -- more than six months before the start of primary season. On the back of each ballot, there was space for voters to offer advice to their favorite candidates.
Otherwise, the summit was a way for the conservative girls to promote their own special causes to a room of like-minded thinkers and to spend three hours receiving special training in "Fighting Like a Girl" for the 2012 campaign. (The training, naturally, came from a man, a representative from American Majority, a "political training institute.")
During the Friday afternoon session, Deneen Borelli, a Fox News commentator, congratulated her audience on not being ashamed to be called girls, and then jumped on her hobby horse attacking President Obama's energy plan. Former Congresswoman Marilyn Musgrave spoke movingly of spending time cuddling her young "grandbabies" (the youngest of which is named Reagan; the crowd applauded) and then began stumping for the Susan B. Anthony List, an anti-abortion political action committee of which she is Project Director. A true sign that this was a political speech: a reference to "my dear friend, Mike Pence." (You may recall Mike Pence -- he's the guy behind the widely publicized Pence Amendment, which would have de-funded Planned Parenthood, if only it weren't a bit of political showmanship that got precisely nowhere in the U.S. Senate.)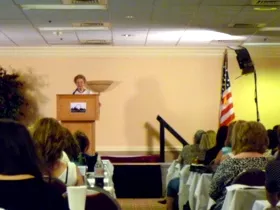 Phyllis Schlafly decries the cause of feminism.
And of course St. Louisan Phyllis Schlafly was there, delivering her own patented brand of anti-feminism, crediting wonderful, time-saving inventions such as the washing machine for improving the lot of the modern woman. (God bless the Kitchen Aid mixer.) Not that women were ever really oppressed. Schlafly can tell you! She was there! At both Washington University, where she got her undergrad degree, and at Harvard, where she received her Masters, she was fully able to "keep up the guys" even while working in a munitions plant. (She naturally forgot to mention that when she was going to school, in the early 1940s, there were no guys, because they were all off fighting World War II.)
Schlafly, by the way, delivered a perfect example of "fighting like a girl." The feminists, she said, don't like Sarah Palin because she's accomplished, because she's got beautiful children and a "cool husband" and, most of all, because she's pretty.
Though Schlafly received a warm reception, she's been doing this same schtick forever. The true showstopper of the afternoon was a newcomer: Natalie Nichols, county clerk of Bowie County, Texas.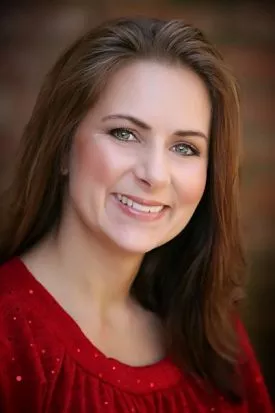 image via
Natalie Nichols
In 2008, Nichols was an ordinary full-time mother of four who had foregone college to marry and raise her family. But then she saw Sarah Palin. A spark was lit. She went back to school to study political science and then let a friend talk her into running for county clerk last November. She became the first Republican woman to hold the post.
Almost immediately the clouds of civil disobedience began to darken Nichols's fledgling career. It is the custom of the county commissioners court to begin every meeting with a prayer and the Pledge of Allegiance. When Nichols missed a meeting in early May because she had to go to training, a judge ordered the prayer and the Pledge both to be struck from the minutes (although they had both, in fact, been said), because he and other officials were afraid of reprisals from the ACLU.
Nichols was incensed. At the following meeting, she argued to have the prayer and the Pledge restored to the meeting minutes. (Nichols' statement appears on YouTube, though even she admits it's really boring.) The judge accused her of disrupting the meeting, which, for an elected official in Texas, can get you a six-month jail sentence.
The women in the audience were visibly moved and outraged on Nichols' behalf, especially after she girlishly confessed her initial reaction to the news. "It was that time of the month," she said, "so I cried. Then I ate some chocolate." The crowd laughed and applauded some more.
"I didn't go to college after high school," Nichols told them, "so I never got to join a sorority. But you Smart Girls are my sorority!"
You go, girl! (And really, Smart Girls, this is the best you could do, a martyr in a fight over meeting minutes? Nichols doesn't even appear on the official conference program.)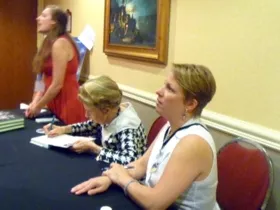 Phyllis Schlafly and her niece Suzanne Venker sign copies of their new book, The Flipside of Feminism.
Outside in the hallway, pledge activities are in full swing. Take the straw poll! Sign up to get information about the Susan B. Anthony List, Schlafly's Eagle Forum, Citizens United Productions, the Independent Women's Forum, the American Majority and its rival, the Leadership Institute! Buy pretty pink T-shirts and tote bags! (It's true each attendee already received a tote bag filled with brochures and a tube of Voices of Conservative Women lip balm and stamped with the misquote "Well-behaved women rarely make history," but the tote bags for sale are of much better quality.)
Most of all, find a way to make your voice heard. After, of course, you're done raising your children and cooking dinner (although, as Phyllis Schlafly points out, the microwave is an agent of your liberation) and making sure the men don't feel overshadowed by you or your accomplishments. That's what it means to be a girl. Especially a smart girl.