Training camp for NFL franchises is well underway, and the most frantic part of free agency is now past. That's not to say there aren't still moves to be made and players to be signed, but the bulk of the important deals have already happened. We can look around and get at least a fair idea of what teams are going to look like when games start being played.
So with that in mind, now seems like a pretty good time to take a look at what the Rams accomplished in free agency, as well as what they didn't. They've done what looks to me to be some pretty solid work, but there were also a pair of players I wanted to see here in St. Louis, both of whom signed elsewhere, so it isn't all roses and sunshine.
What Was Added
Harvey Dahl, OG
Dahl may be the key pickup for the Rams this offseason. If so, you could certainly do a whole lot worse. As part of one of the best offensive lines in all of football over the last couple seasons (that of the Atlanta Falcons), Dahl has proved his worth as a dominant physical force on the interior. The Falcons were faced with three free agents on the O-line, two of whom were guards, and chose to retain Justin Blalock instead of Dahl. The Rams jumped and reaped the benefits.
No, that's not Harvey Dahl. That's Richie Incognito. But the two do have certain things in common, and I'll take any excuse to post this photo because it's hilarious.
​Dahl has a little of Richie Incognito in him, as he perennially ranks among the league leaders in personal fouls, but unlike Richie he doesn't hamstring his team with ill-timed penalties nearly as often. Plus, he once got Mike Singletary to threaten him on the field, so he's okay by me.
Dahl may not be a Pro-Bowler, but he's a highly productive, physical force in the middle of a line, as well as 300+ pounds of nasty. He's a huge upgrade over what the Rams relied on for most of the season, and gives them an interior that should match up to their excellent tackles.
Quintin Mikell, S
Mikell wasn't a free agent long before the Rams pounced and reunited him with his old DB coach in Steve Spagnuolo. Mikell isn't necessarily an upgrade for the Rams over O.J. Atogwe, but he is a much better fit for the scheme than Oshiomogho was. Less of a center fielder and more of an all-arounder, Mikell excels equally in run support and pass coverage. He won't post big interception numbers, but in the Rams' gap-driven system he should fit well as a defender who is always where he's supposed to be and is a sure tackler.
I think Mikell was probably the second-best safety on the market, and his familiarity with Spags pushed him above Eric Weddle. (The Chargers also gave Weddle an enormous pile of cash to stay in San Diego, which probably kept the Rams from going after him too very hard.) He should be a solid contributor.
Zac Diles, OLB
Diles came over from the Houston Texans, and while he isn't a flashy player he could represent a solid value for the Rams. He's just average in coverage, but excels at the point of attack. He has the range to make tackles all over the field, and he rarely misses when he wraps up an opposing ball carrier.
Diles is, in reality, a virtual prototype of what sort of player we should expect to see from the Rams at the outside linebacker position. He's never going to be a star, flying squarely below the radar, but he knows his assignment and he makes tackles. As a child of the 80s, when linebackers were kings, I have a bit of a hard time with this notion. I want the Rams to bring in killers in the linebacker corps. I want pass-rushing monsters who blow up opposing receivers when they dare come over the middle. But that's not the focus in Spags's defense, and Zac Diles is exactly the sort of player they're looking for.
Justin Bannan, DT
Okay, so I have to admit right off, Justin Bannan was not the guy I was hoping to see the Rams sign. There were a couple higher-caliber tackles I had my eye on, and seeing the Rams miss out on both was a little disappointing. Still, as consolation prizes go, Bannan isn't bad at all. He's certainly better than the home version of Jeopardy.
What Bannan brings is a big, strong presence in the middle of a line who keeps his pad level low and clogs the running lanes beautifully. What he doesn't bring is much quickness off the line or an ability to penetrate and get into the opponent's backfield. He also doesn't have great pursuit speed, so don't hold your breath waiting on him to chase down an opposing player to make a tackle.
At 32 years old, Bannan looks quite a bit like the 2011 version of Fred Robbins, a veteran widebody bandage who brings depth to the line and should be able to earn his salary with consistently solid -- if unspectacular -- play. He's probably not an every-down player, but as part of a rotation Bannan could be very effective. Another quiet but likely productive signing.
Mike Sims-Walker, WR
I definitely have some reservations about Sims-Walker, but all the same I think this was a good signing for the front office. Walker has all the physical tools to be a top-flight receiver, but as of yet he hasn't consistenly turned those tools into production. He drops balls. His routes aren't all that crisp. He'll disappear for long stretches of time. All in all, he's an enigmatic player who ultimately grades out as a slightly above-average receiver.
So why do I think it was a good signing? Because the Rams got Sims-Walker as an insurance policy against a whole boatload of things going wrong. If the Rams' young receivers fail to take a step forward this year, they've still got Sims-Walker out there on Sunday, providing an acceptable level of production. And as for Sims-Walker himself, he certainly has the potential to make a big splash with an emerging star quarterback feeding him the ball. He needs to rehabilitate his image a bit before he goes for a big contract, and this could end up a very beneficial team situation for him.
I see Sims-Walker having a very solid season, then leaving to sign a big deal elsewhere. Which honestly, I'm okay with, because I also don't believe by the time training camp rolls around next the Rams will need him all that badly.
Something that is very intriguing is the question of what this signing means for Mark Clayton's future with the Rams. It seemed inevitable the team would bring Clayton back, but after adding MSW that appears now to be very much in doubt. It makes me wonder if the team got a look at the medicals on Clayton's knee and didn't like what they saw.
Jacob Bell, OG
Okay, so maybe he isn't exactly a new acquisition, but Bell did briefly leave, when the Rams looked to be releasing him after he refused to restructure his contract.
Of all the players the Rams added, I might actually be the least pleased to see Bell coming back. Don't get me wrong, I think he was a perfectly acceptable guard last season, but for the money the Rams are paying him I think they could have done better. He's just never impressed me as anything more than a zone-blocking type miscast in a power system. For my money, I honestly think the Rams could have done much better for themselves by simply letting Bell go, signing Dahl, and promoting John Greco to a starting position. Instead, they chose to ship Greco off to Cleveland with Pat Shurmur and continue paying Jacob Bell to be mediocre on Sundays.
What Wasn't Added
Impact at Defensive Tackle
As I said above, Justin Bannan should be a perfectly acceptable rotational player, capable of clogging up the lanes in the middle of the field like nobody's business. All the same, I thought there were a pair of true impact defensive tackles on the market this year, and both would have been outstanding fits for the Rams' defense.
Both Barry Cofield and Brandon Mebane were available, both would have immediately pushed the Rams' D-line well into elite territory. (They may already be there, but I'm going to hold off on the coronation ceremony until we see what they actually do on the field this year.) Cofield would have been the best fit, I thought, while Mebane would have come with the added attraction of weakening the Seahawks by signing away one of their best players.
Unfortunately, neither player will be in a Rams' jersey this season, but I have a tough time really faulting the team for not signing either of them. Mebane apparently was very set on returning to Seattle, and it's tough to sign a guy away from a place he's comfortable. As for Cofield, well, I don't know if it's a proverb or not, but it should be: If you're in a bidding war with the Redskins, chances are you're making a mistake.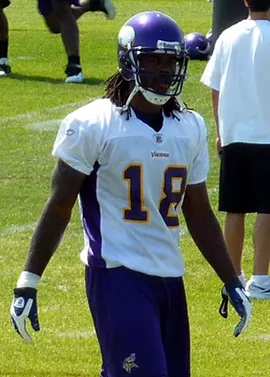 commons.wikimedia.org
Sigh. It's going to suck watching Sidney Rice play in a Seahawk uniform.
​A Number One Receiver
There was really only one top-flight receiver on the market, and that was Sidney Rice. He would have instantly transformed the Rams' receiving corps. Instead, he went to Seattle, where we'll get to watch him try to haul in passes from some of the worst quarterbacks in the league, then take off once the Seahawks realise they need a guy who can actually make the throws.
The Rams didn't have the luxury of a huge bumper under the salary cap, so maybe Rice was unrealistic. There were plenty of other holes on the roster that needed to be filled. Still, when a receiver like Sidney Rice comes on the market unrestricted, if you can find a way to add him to your team I think you have to do it.
Backup Center
I was really, really hoping the Rams would take a look at Missouri's Tim Barnes as an undrafted free agent, but apparently they like having Hank Fraley take up a roster spot while accomplishing nothing week after week. The backup center position was a big part of the reason we saw so little Greco and so much Adam Goldberg last year, and that's just unacceptable to me.
Jason Brown has been a major disappointment since arriving in town, and the Rams have yet to make any kind of concerted effort to find his replacement. It may seem like a small thing, but it's still a move I think the front office could have easily made that they chose not to.
Backup Running Back
This, on the other hand, is kind of a big one. How many years in a row has it been now without a legitimate backup to Steven Jackson for the Rams now? I've honestly lost count.
There were plenty of running backs on the market this year, both of the power and finesse varieties, and the Rams have yet to bring in one of either type. Thankfully, there's still time for them to do so, and I have to believe they'll sign at least one, and possibly two, running backs to help carry the load. It's a buyer's market this year, so they will likely be able to afford a pair if they would like. Perhaps one full-fledged backup and one speedster. Regardless of how they go about it or what combination of players they ultimately settle on, upgrading the depth at running back is an absolute must for this team. They've come too far, and are too close to genuinely competing, to see it all derailed this season by a simple failure to adequately back up Steven Jackson in case something happens to keep him off the field.
Overall
Overall, I think the Rams have had a very productive free agency period this year. They didn't hit on either of the big defensive tackle targets, but then again they may not have really been in a position to do so considering how those situations developed. Failing to make a run at Sidney Rice bugs me a bit more, as he would have been an absolute game-changer as part of this team. As for the payroll hit Rice would have presented, well, just let Jacob Bell walk instead of renegotiating and you've got a nice chunk of change there to put toward Rice's salary.
Still, the club did upgrade three of their more pressing needs, adding depth a D-tackle, upgrading the interior offensive line, and adding a much-needed veteran presence at wide receiver, even if it wasn't the player most everyone was expecting. The Rams did as well for themselves as I think you could reasonably expect them to, and if there are areas I still think they could have done better, well, that's probably just the way it's always going to be. Building a team is much tougher than bitching about the team being built on a blog.
Now, though, the Rams absolutely have to come up with some sort of realistic Plan B behind SJ39. Jackson has enjoyed fairly good health the last few seasons, but the Rams have been playing without a safety net behind him for far too long. If Billy Devaney can come up with a dynamic, useful plan for backing up Jackson, I'll be fully willing to give the Rams a high grade and plenty of credit for their offseason work. If not, though, it'll just be one more year of doing good work in lots of areas, but ultimately failing to fill all the holes they need to fill.
Update: Since completing this column yesterday morning, the Rams agreed to terms with Jerious Norwood, a backup running back formerly of the Falcons. Norwood is a speedy, elusive playmaker in the Darren Sproles mold who should give the Rams a nice change of pace off the power running of Jackson. He's not really a proper backup running back though, as he's likely too small to handle even a partial load regularly, so the Rams will still probably need to bring in a back to take more regular carries. Cadillac Williams is still on the market, and would fit the bill nicely since Ronnie Brown went to join the rest of the NFL in Philadelphia.