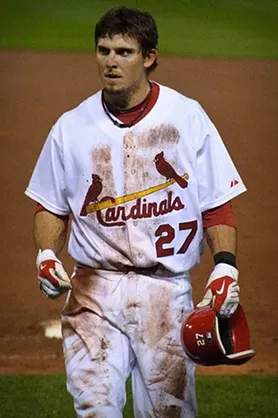 commons.wikimedia.org
Look! His uniform is even covered in dirt! Why can't this guy get a decent shot here?!
One of the really interesting (to me, anyway) sidebars of the Cards bringing in
Rafael Furcal
is the fact
Tyler Greene
was, once again, the odd man out. Greene was optioned back to
Triple A Memphis
to make room for Furcal on the 25-man roster.
Now, that may not seem like all that interesting a piece of news to most of you, but to a very small group of people -- like myself -- who happen to like Tyler Greene and cannot figure out why he has yet to get any more than the crumbs in the major leagues, it's yet another indication of the long-held pattern the organization has had in dealing with Greene. There are those of us who feel he has the potential to produce at a perfectly acceptable level in the big leagues if he were ever given a chance over the dregs we normally see playing out there, but it doesn't appear that's ever going to happen.
I can just hear it now, all of you out there sitting at your computer screens, groaning, "Oh, Lord. Here we go again. Is this going to be another of those dumbass columns where he bashes the team for some tiny detail that no one outside of a couple nerds hanging out in their basements even gives a shit about? God, when the hell is the RFT going to get rid of this guy?"
To which I answer: Yes, it is one of those. And it's not a basement. It's an apartment that just happens to be on the lower level of a home.
There's been a fair bit of ink, both real and virtual, spilled over the struggles of the Cardinals' middle infielders this year, with two of the worst players in all of baseball regularly manning one or both positions.
Ryan Theriot
and
Skip Schumaker
are both just appallingly awful baseball players; how a team can call itself a contender with both of them on the roster is really beyond me.
Enter Tyler Greene. Greene is the remarkably talented but wildly inconsistent shortstop the Cardinals drafted in 2005, just two picks after the now-infamous Colby Rasmus. To date, Greene has proven to be one of the enigmatic players I can recall in recent memory, proving perhaps while other teams were looking for projectability of polish in the draft, Jeff Luhnow may have been telling his scouts to find him the most maddening players possible.
So you have Tyler Greene, who has more physical talent in one of his fingers than, say, David Eckstein has in entire body, yet can't seem to turn those tools into actual production. Actually, let me rephrase that, because to say he hasn't turned his talent into production is a little simplistic. He hasn't turned his talent into production at the major league level, and therein lies the rub.
To date, Tyler Greene has 357 plate appearances in the major leagues. That's right about half of a full season's worth of PAs. The problem is, Tyler hasn't gotten that half season of plate appearances in half of a season, or even over a full season. He's gotten those 357 plate appearances over the course of three full years. So, 119 plate appearances per season for the last three seasons, in 143 games. That's right, he's averaging well under one plate appearance per game he's played in.
So the argument, from those who think Tyler Greene is a useless headcase of a player who can't make it at the big league level, is that he's had his chances and hasn't done anything with them. Well, I would disagree that half a season's plate appearances spread over three years constitutes anything resembling an actual chance.
And as for the idea he's never produced anything, well, his OPS last season was .655, which isn't much, but is only five points less than what Ryan Theriot has produced for the Cards this year. Oh, and by the way, Greene is actually capable of playing the position.
This most recent run-through with Tyler really pretty much sums up the way his big league career has gone so far. He started the season in St. Louis, got 31 plate appearances over 14 games in April, and posted a .715 OPS. He also added five stolen bases without being caught. He played decently in May, with a .642 OPS in 59 plate appearances (which represents the closest thing he's ever gotten to an extended look: 59 PAs in 24 games; still less than 2.5 plate appearances per game), and then struggled badly in 11 June games.
He was sent down on the 17th of June and proceeded to destroy Triple A, posting a triple-slash line of .328/.427/.578, as he usually does when he's in the minor leagues. He was brought back up on the 29th of July, played in two games, received two plate appearances (he walked in one of the two), and was sent back down when the team picked up Rafael Furcal.
Now, do I expect the Cardinals to play Tyler Greene over Rafael Furcal? No, of course not. But it seems a little sad to see Tyler ripping it up in Memphis, then receive exactly two plate appearances before being shipped right back down there. He didn't even have time to drop a popup this go-round.
Most broadcaster types and those who listen to them will tell you Tyler is a Quad A player, a guy who's too good for the minors but just not good enough for the big leagues. I don't really buy that. For one thing, he doesn't really fit the profile. Quad A players are usually single-tool guys like John Gall who don't have well-rounded enough games to make up for the downturn they see in their hitting at the major league level. Greene plays the most premium position on the diamond, does it fairly well, and has actually already produced as good a results as lots of other players who are playing in the majors right now.
For what it's worth, the most consistent period of playing time I could find for Greene going through his game logs was probably in July of 2010. From the 2nd through the 24th of July, Tyler played in 14 games and received 45 plate appearances. In those 14 games he hit .300/.378/.450, good for an .828 OPS. He then finished out the month with four straight one or two plate appearance outings, then didn't play for the Cardinals again until September.
Outside of that, he received 36 plate appearances over 12 games in May of 2009 and posted an OPS of .860 for the month. He played a fair amount in June of that year, with 63 plate appearances scattered over 24 games, and struggled to the tune of just a .524 OPS. It seems that month may have permanently set the way the coaching staff views him, as he played in four games at the beginning of July then wasn't seen in St. Louis again until the last week of the season. Are two isolated stretches enough to suggest Greene would produce if given consistent playing time? No, they are not. But that's literally the two most concentrated periods of at-bats I could find for him.
I'm not trying to tell you Tyler Greene is a world-beater. He has poor contact skills, which will always limit his ability to hit for a high average. But he's also walked at better than a 10% clip each of the last two seasons, has shown the ability to drive the baseball better than any of the Cards' other middle infield options, and has stolen fourteen bases in his half season of playing time without ever being caught. That's right, he's never been caught stealing. Look at it this way: any time Tyler Greene gets on base, you can basically just tell him to take second and skip the part where the guy after him fails to get a bunt down.
So no, Tyler Greene isn't a world-beater. He may not even be a major league player. But I find it a little frustrating that next season he'll likely be playing for some other team, while the Cardinals face the prospect of either paying a 33 year old with major health concerns (Furcal), a big salary or being stuck with Ryan Theriot again, and they still won't have a clue what Greene might have done with even two months of consistent playing time without the threat of banishment to Triple A hanging over his head.