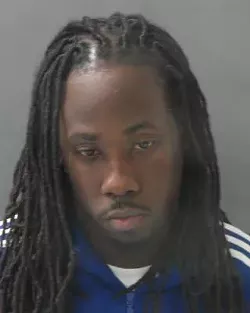 Allen Brown disappeared from the city workhouse sometime yesterday.
Allen Brown was
captured without incident
around 7:30 p.m. Thursday night in the 4100 block of Enright, just north of the Central West End.
Brown escaped the city's workhouse Wednesday evening when he took a bathroom break from a life-improvement class and ran through an unlocked gate and then scaled two fences topped with razor wire.
The city has placed two guards on suspension as they investigate Brown's escape.
Original story from Thursday morning follows...

St. Louis police were searching with dogs and a helicopter late last night for Allen Brown, an inmate at the city's workhouse on Hall Street who corrections officials discovered missing around 9 p.m. Wednesday.
The 29-year-old Brown had been in custody inside the city's medium-security jail since last November when he was charged with unlawful possession of a firearm and unlawful use of drug paraphernalia. He'd been held on a $100,000 bond and had been unable to raise the $10,000 cash requirement on the bond to secure his release.
Police say that Brown's prison uniform was found inside the workhouse, so it's unclear what Brown is wearing now. No word, either, on exactly how he escaped. Anyone who sees the five-foot-eleven-inch Brown is encouraged to call 911.
Last summer, two teenage inmates also escaped from the workhouse when they
flooded their cell toilet
and were left unattended to clean up the mess.