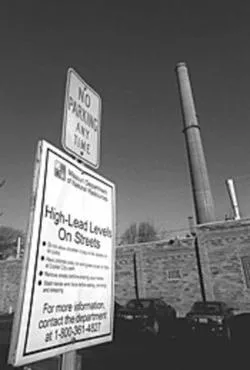 Photo: Jennifer Silverberg
Warnings outside the Doe Run smelter in Herculaneum.
A trial lasting three months wrapped up today in St. Louis Circuit Court with a
jury awarding 16 plaintiffs $38.5 million
in compensatory damages for lead poisoning they sustained living next to a Herculaneum smelter.
More money could be rewarded tomorrow or Monday after the jury considers punitive damages.
The plaintiffs were all children living near the Doe Run smelter in the late 1980s and early 1990s when they were exposed to lead that resulted in disorders such as low IQ and attention-deficit disorder.
At the time, the smelter was owned by Fluor Corp.; Doe Run Investment Holding Corp.; and A.T. Massey Coal Co. The smelter operates today under the Doe Run name but is
owned by Renco Group
.
Plaintiffs had asked the former owners for more than $100 million in damages from exposure to lead. In 2001,
Riverfront Times
published an in-depth look at the the
impact of lead pollution on Herculaneum
. Just last October, Doe Run reached a
$65-million settlement with EPA
to correct violations of environmental laws at ten of its lead mining, milling and smelting facilities in Missouri.