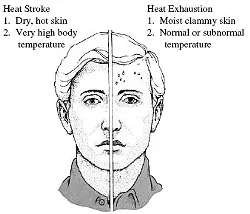 Last week's
heat wave
subsided yesterday, but not before taking with it St. Louis' fourth victim of the summer.
The city Department of Health announced Monday that an 86-year-old woman in north St. Louis perished Saturday morning due to the heat. The victim had air-conditioner window units that were not working properly.
And while St. Louis is enjoyed a
momentary break from the heat and humidity
, both are expected to return today. City residents without an air conditioner or in need of energy assistance should call the United Way at 1-800-427-4626 or 211 if calling from a land-line phone. Assistance can also be obtained by contacting Cool Down St. Louis at 314-241-7668.