​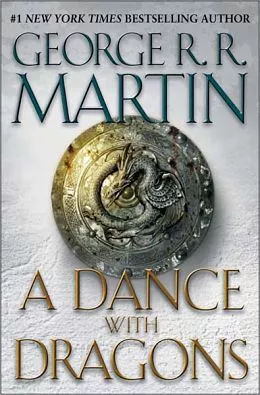 It's here! It's here! OMG, it's here!
Here's your weekly St. Louis bestseller list for the week ending July 17, as compiled by the St. Louis Independent Booksellers Alliance and based on sales at Left Bank Books, Main Street Books, Pudd'nhead Books, Subterranean Books and Sue's News.
Here's a new reason kids won't go the fuck to sleep: A Dance With Dragons, the new George R.R. Martin book has finally come out. For the uninitiated, it's the fifth book in the Song of Ice and Fire series, a chronicle of scheming and treachery in the mythical Seven Kingdoms, which resembles late-medieval England. Each of the books is roughly the size of a doorstop. HBO recently aired a TV version of the first book, A Game of Thrones. Nonetheless, re-reading and watching TV is not the same as a fresh new book, and Martin's fans have been waiting four long years, sustained only by bitching on Internet message boards. ("George R.R. Martin, you suck.... Pull your fucking typewriter out of your ass and start fucking typing.") The new book sold 300,000 copies (paper, audio, e-book) its first day in the stores, making it a lock for No. 1 on the adult list. (A Game of Thrones also appears at No. 6.) It weighs in at 1,040 pages, which should make for many sleepless nights.
Or maybe the kids are just busy scribbling their own life stories, guided by No. 1 kids bestseller The Wimpy Kid Do-It-Yourself Book. (James Patterson apparently had the same idea when he composed Middle School, The Worst Years of My Life, No. 10 on the kids' list.)
Or just maybe the kiddos stole their parents' copy of local author Scott Phillips' latest, The Adjustment, a noir thriller about dastardly doings in post-World War II Wichita. That's what's keeping us up, anyway.
Adult Bestsellers:
1. A Dance with Dragons by George R.R. Martin 2. Go the Fuck to Sleep by Adam Mansbach and Ricardo Cortés 3. The Immortal Life of Henrietta Lacks by Rebecca Skloot 4. A Stolen Life by Jaycee Dugard 5. Bossypants by Tina Fey 6. A Game of Thrones by George R.R. Martin 7. The Kid by Sapphire 8. State of Wonder by Ann Patchett 9. Nothing Daunted: The Unexpected Education of Two Society Girls in the West by Dorothy Wickenden 10. The Adjustment by Scott Phillips
Children's/YA Bestsellers
1. The Wimpy Kid Do-It-Yourself Book (Revised and Expanded Edition) by Jeff Kinney 2. Catching Fire by Suzanne Collins 3. Diary of a Wimpy Kid by Jeff Kinney 4. Miss Peregrine's Home for Peculiar Children by Ransom Riggs 5. Thirteen Reasons Why by Jay Asher 6. Forever by Maggie Stiefvater 7. The Hunger Games by Suzanne Collins 8. Invasion of the Potty Snatchers by Dav Pilkey 9. Best Travel Activity Book Ever! by Rand McNally 10. Middle School, The Worst Years of My Life by James Patterson, Laura Park and Chris Tebbetts