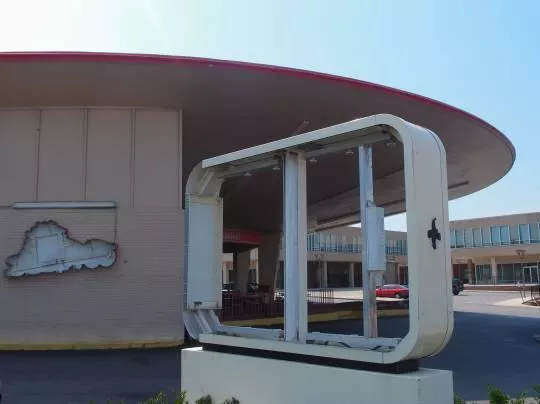 Albert Samaha
The saga continues...
On Sunday, developer Rick Yackey sent the St. Louis Post-Dispatch a statement declaring that he will explore every possibility before demolishing the Saucer on South Grand.
According to the P-D, Yackey pledged "to hire an architect, talk with potential tenants, and hold a community meeting to explore possible uses of the building." He also defended his record, "noting that he has performed more than two million square feet worth of historic rehabs in the city... and never once applied for a demolition permit."
The fact that Yackey felt the need to release such a statement suggests that the public pressure to preserve the Saucer is clearly getting to him. It is, in fact, a sharp turn from his rhetoric at an Aldermanic committee meeting a few weeks ago, where he maintained that demolition was likely.
Even when Alderwoman Marlene Davis offered him an out, by telling the committee that alternatives would still be explored before demolition, Yackey was stubbornly frank, asserting that he had already explored every alternative.
Of course, much has changed since that meeting. When Yackey first explored those possibilities, the property was nothing more than a failing Del Taco with a cool shape in a high-crime area with limited parking. The possibilities were probably pretty limited, as he has argued.
But now, the Saucer is on the front page of newspapers, scores of citizens rally with "I *heart* the Saucer" signs, and thousands more are rushing to its defense on Facebook. Now the Mayor blogs and tweets about it. Now Kaldi's Coffee and Pi pizzeria are interested.
Certainly, the possibilities have expanded since Yackey last explored. So he estimates that "completing this investigative process" will take two or three months.
To be continued...