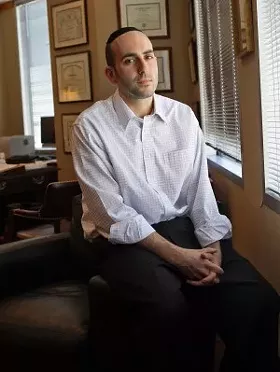 Josh Gould was sentenced today to eight months in the pen.
Josh Gould
, the 32-year-old University City resident and former
Woodbury Financial broker
who
stole
millions of dollars from his Orthodox Jewish brethren in a
Ponzi scheme
, was sentenced today to 97 months in federal prison.
Gould was also ordered to pay his more than two dozen victims restitution totaling $4.3 million.
U.S. District Court judge
Rodney Sippel
cited the "individual families that were destroyed" by Gould, who showed up to court in a dark, pint-striped suit and black
kippa
.
(See our
coverage
of the crime or read the
full indictment
).
Gould's father, himself a victim, addressed the court, describing the occasion as "a very painful day" for him and his whole family. (To keep the pyramid scheme afloat, the younger Gould ended up stealing thousands from his own mother's inheritance).
The most scathing attack on the defendant actually came from a tearful Josh Gould himself, who described his own actions as "heinous" and "disgusting," and considered himself "selfish and despicable."
"I don't expect anyone to believe what I'm saying," Gould stated. "I've lost all credibility."
Indeed, Assistant U.S. Attorney
Hal Goldsmith
felt it necessary to correct the narrative put forth by Gould's attorney,
Al Watkins
. Specifically, the prosecutor said it was "outrageous" to suggest, as Watkins had, that the young man launched businesses such as
The Sports Nook
in order to earn money to make things right for his victims.
Those ticket broker businesses were started with money from victims, and Gould enriched himself with the proceeds, the prosecutor said.
Goldsmith also gave a voice to victims not present by reading their written statements aloud. Many were elderly, some were widows.
Judge Sippel, in making his final ruling, said that one victim in particular "jumped out" at him. A woman who'd worked with Gould had lost her husband and had only $7,000 of savings for her and her child. Gould took it all.
"I don't mean to lecture you," the judge told Gould. "[But] You knew that was all she had, and it didn't stop you."
On behalf of the government, Goldsmith asked for an application of the federal guidelines, which called for a minimum of 97 months. That's the sentence Gould got, despite a request for a downward departure made by Watkins.
After sentencing, Watkins says, "Given the totality of the circumstances, my client is very happy."
Goldsmith declined comment.