Aren't you ready for some football?
It's 120 degrees outside, maybe more. I saw a bird burst into flames a little while ago as it flew past the window, and the soles of my shoes are gummy, sticking to the pavement with every step. So, of course, the thing at the very top of my mind is America's favorite autumn pastime: football!
With it looking more and more like the NFL's league year could start any day now, meaning the imminent beginning of free agency, it's time to start looking ahead to what the Rams might be trying to accomplish once the league opens for business. The team finished the 2010 season at 7-9, missed the playoffs in disappointing fashion due to an absolute meltdown on national television against the Seahawks, and had what looks to be a productive -- if somewhat unorthodox -- draft. So where do they go from here?
Here are, in my ever so humble opinion, the four top priorities for the Rams as they try to shore up what looks to be an emerging team for a run at the 2011 NFC West.
According to
John Clayton
of
ESPN
, the Rams should be right in the neighborhood of $35 million under the salary cap as of today. That doesn't include signing draft picks (which the new rookie salary number should help with), or resigning their own free agent tenders. Still, that $35 million represents a pretty healthy number, one that should allow the Rams to make pretty much whatever moves they need.
Keeping Mark Clayton should be high on the list.
I think at this point that resigning
Mark Clayton
at wide receiver is nearly a foregone conclusion. The two sides were said to be close to a deal before the lockout began, and while there has been no official business since then, I wouldn't be exactly shocked to learn Clayton's agent and the Rams had hashed out some contract details in a strictly off-the-record fashion. If Clayton does indeed re-up with the Rams (and considering the rapport he had with
Sam Bradford
almost immediately I have to think all parties would like to see him do so), then I believe the Rams are probably done with their receiver corps.
They may not have gotten the big-name guy they were hoping for in the draft, but between the two young receivers they did draft and Josh McDaniels' apparent desire to emulate the tight end heavy offense the New England Patriots utilized last season, Bradford will have a bevy of targets to throw to, and more guys who need touches than can probably be taken care of every single week. Besides, there are plenty of other places for the Rams to spend their money.
1. Defensive Tackle
I know, I know, the Rams' defensive line was arguably their most productive unit last season, and easily the best overall part of the team. So why would the team prioritize it, when there are so many other, weaker areas?
It has everything to do with scheme, age, and availability. Steve Spagnuolo's defensive scheme relies on the D-line heavily, with pressure up front the chief characteristic of his defenses. When in doubt, a coach will always go to his strengths. Just as importantly, Fred Robbins was one of the team's best players last year, but he's in his mid-30s and the clock is ticking. The Rams have elite pass-rushers on the outside; they need one upgrade in the middle to make that area elite as well.
Potential Targets: Barry Cofield (Giants), Brandon Mebane (Seahawks)
And here's where the availability side of the equation comes into play. Cofield and Mebane are two of the stronger defensive tackles in the game, and either would fit the Rams' current philosophy like a glove.
Cofield would seem, to me at least, to be the ideal pickup. He has all the qualities the Rams are looking for, and he should. After all, he comes from the New York Giants, where he played under Spagnuolo as a defensive coordinator. Cofield is a fair enough pass rusher, recording 10.5 sacks in his 5 year career, but where he really excels is in run defense, where his lateral quickness allows him to seal off gaps as they open. He's a strong tackler, as well, and his familiarity with Spagnuolo's system is a plus.
Brandon Mebane might be an even more productive player than Cofield, and signing him would have the additional benefit of weakening a division rival at the same time. He had a huge season in 2008 and looked like a future superstar, but hasn't been back to quite that same level since. Still, he's a run-stuffer of the highest magnitude, a widebody who can clog up the middle like nobody's business. He has a nice first step as well, but lacks the speed to pursue, leading to fairly low sack totals. (With the exception of that 2008 season, that is.)
While both Cofield and Mebane would be outstanding additions, Cofield represents the better fit to me. He comes from Spagnuolo's system, and fits the physical profile a bit better as well. While Mebane certainly has plenty of bulk and strength, he's on the short side, at just 6'1". Cofield goes 6'4", and Spags seems to like his D-linemen with a bit of height, guys who can get their hands up at the line of scrimmage and possibly bat the ball out of the air. I look for Cofield to be the Rams' primary target in this free agency period.
2. Safety
With the departure of Oshiomogho Atogwe (I finally realized why I wasn't all that upset with Atogwe leaving: I won't have to spell Oshiomogho constantly), the Rams have a serious hole in their secondary. They're remarkably solid at corner (though maybe not quite as deep as you would like), but over the middle it's a different story.
That isn't to say the team doesn't have options. Craig Dahl was solid last year, and he's back. He's a strong tackler, but not as good in coverage. James Butler is on the downside of his career, and I don't expect a whole lot from him going forward. The wild card could be second-year man Darian Stewart, who played well enough last year in a limited role and whom the coaching staff seems very high on. Still, this is a very weak group, and if the Rams' defense is going to be elite this season an upgrade will likely be needed.
Potential Targets: Eric Weddle (Chargers), Quintin Mikell (Eagles)
This is a very nice duo of players, either one of whom would represent a huge upgrade for the Rams. Weddle is the prize, as he's one of the most productive safeties in the league, just a step or so down from guys like Ed Reed or Troy Polamalu.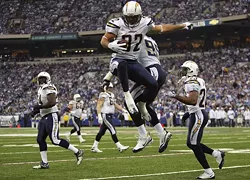 The high-flyin' Eric Weddle
Weddle is a tackling machine, roving all over the field to make stops in all phases of the game. He's equally good in passing and rushing situations, and is rarely caught out of position. That heady intelligence, that instinct for the play, may be his best quality. He would be a perfect fit for the Rams' defense. Plus, at 26 he still has quite a bit of tread on his tires. The one thing Weddle doesn't have, which largely keeps him from the ranks of the true elite, is much in the way of interception numbers. He diagnoses plays, makes tackles, and handles his assignments. He is not, however, going to generate a ton of takeaways.
Mikell is a similar player to Weddle, only a few years further down the line. Another strong tackler and a guy with some of the best gap awareness you're going to see, Mikell fits the Rams' philosophy well also. He comes with a Philadelphia Eagles pedigree as well, always a plus when talking about Steve Spagnuolo. The only real downside with Mikell is his age. He'll turn 31 in September, and while that isn't ancient for a safety, it's also fair to expect his best days may be behind him.
The biggest question for the Rams at safety is going to be how much they want to invest at the position. Spagnuolo's defenses don't value safety all that highly, and he prefers to use his safeties interchangeably, rather than designating a role for each. While adding an Eric Weddle would push the defense ever further into the realm of dominance, whether or not the Rams will be looking to spend the kind of money it would require to sign him is very much up in the air.
3. Running Back
The Rams have the number one spot on their depth chart at running back locked up, with Steven Jackson set to carry the load again this season. Who will be backing him up, though, is another matter entirely. The Rams have gotten away with not having a strong backup for quite some time now, but one of these days it's going to bite them in the ass. Hard.
The Rams could go with a change-of-pace back, a smaller, shifty guy to contrast the bruising style of Jackson, or they could go with a more similar player, a bigger back who could carry the load should SJax go down for any period of time. I like Keith Toston, the team's current backup running back, more than most, but they still desperately need some more depth at the position.
Potential Targets: Darren Sproles (Chargers), Reggie Bush (Saints)
Both of these player fit the small, shifty mold of running back, and either one could add an interesting new dimension to the Rams' offense.
Sproles is a player the Rams have shown interest in in the past, and they could still be looking to bring in the small speedster. Sproles is one of the players who really started the whole micro-back fad a few years ago, using his speed and small stature to weave through defenses and rack up yardage. Sproles isnt' quite as explosive as he once was, and as with any running back you have to worry about the mileage he's racked up. He's also not big enough to carry a full-time running load should Jackson miss much time. Still, he could certainly represent an intriguing addition to an offense in need of playmakers.
Bush, who will almost certainly be pushed out in New Orleans due to a lack of cap space, has proven to be a versatile, potentially explosive performer in the NFL, if not quite the dominant force he was expected to be. Adding him could very well bring the kind of multidimensional threat to the offense the Rams haven't seen since Marshall Faulk started to slow down. The only real downside to Bush is the price tag. While he won't get the same kind of money from another team the Saints would owe him this season if they chose to hold on to him, he'll still command a hefty price tag. I'm just not sure the Rams can afford to add him with other holes still to fill.
The other option here would be to go with a young player, an undrafted free agent along the line of Derrick Locke out of Kentucky or Graig Cooper of Miami. Honestly, if it were me building the team I would take a shot at Cooper. He's immensely talented, but saw his stock plummet after a knee injury in 2009 that kept him from playing at full strength all of last season as well. Sproles or Bush would be nice adds, but I think the money could be spent better elsewhere.
4. Outside Linebacker
One of the weakest links in the Rams' defensive attack last year, outside linebacker is also one of the least-emphasized positions in Spagnuolo's scheme. Even so, the team needs to try and upgrade the position at least some, or else risk another season of watching opponents pound away at the soft spots underneath.
Potential Targets: Ben Leber (Viking), Mark Herzlich (UDFA)
Chad Greenway of the Vikings is the prize this offseason at linebacker, but he's going to command a hefty salary, and I just can't see the Rams focusing on the position in that way. Leber is the Vikings' other talented linebacker, and would represent a much cheaper, shorter-term commitment. He's a solid all-around player at OLB, with good tackling skills and plus field awareness in coverage. What he doesn't have is explosive athleticism or great speed in pursuit, but as a guy who can fill an assignment on the field and not get caught out of position, you could do far worse.
Herzlich, you might remember, was the star linebacker for Boston College who saw his career derailed by a rare form of bone cancer in his leg. He came back for his senior season in 2010 and was remarkably productive, but didn't show the same kind of athleticism he had before his health problems. Herzlich went undrafted in April (though he was drafted by a UFL team), but still represents one of the more intriguing undrafted options out there.
He still shows the smarts and production, just not the burst. While he was more of a middle linebacker in college, his profile suggests he could play any of the three spots. If I were the Rams, I would take a good, hard look at picking this guy up and plugging him into one of those outside linebacker spots. He may never be the star he looked like before his health took a turn on him, but this is a player with off-the-charts intangibles and a nose for making plays. Putting him next to James Laurinaitis could be just what the doctor ordered for Herzlich to make an impact.
5. Offensive Guard
I save guard for last because, of all the players available, I happen to think the best solution might already be on the roster. Still, interior offensive line was one of the weakest areas for the Rams in 2010, and they need to come up with a better solution this season if they want to avoid a repeat of last year's struggles to run the ball.
Potential Targets: Tim Barnes (UDFA), Davin Joseph (Buccaneers)
Tim Barnes, you might recall, was the center for the Missouri Tigers the last few years, and did an outstanding job for that program. He got some positive press leading into the draft, but somehow went undrafted. (Which I find incredibly difficult to believe.) He's really more of a center than a guard, lacking the ideal size for a pure road-grader, but seeing as how the Rams spent much of the 2010 season playing short on the O-line because they were concerned with a backup center I feel Barnes might be a really nice add. Personally, I think he could play both center and guard, and possibly take over the starting job at center in a couple years when Jason Brown moves on.
Joseph is a very different animal from Barnes. He's one of the most physical, intimidating guards in the business, and will likely be the best interior lineman on the market should he actually reach free agency. (Logan Mankins might have something to say about that, but he's a couple years older and honestly, I'm still not sure whether or not he'll be a free agent. Seems like the Pats aren't entirely sure, either.) Joseph would immediately shore up the middle of the O-line and push it close to elite status. If the Rams wanted to focus on the offensive line and make a splash there, this would be the guy.
The only concern, of course, would be the price tag. Joseph, if Tampa Bay doesn't resign him, will be looking for a big payday, and the Rams have a very large amount of money already sunk into their offensive line. Whether they would be willing to add another hefty contract to that group is a question I'm not prepared to guess at the answer to.
Honestly, I think the best solution for the Rams to upgrade their interior offensive line is to just play John Greco, who's already on the roster. By the numbers (and my eye test, as well), Greco has been remarkably solid in very limited playing time, and presents the kind of power-blacking presence the Rams need up front to open the running lanes.
If the Rams can add significant upgrades at two of these positions and fill the others with marginal upgrades, I think that will be a huge victory and could go a long way toward putting this team at the top of the NFC West standings this winter.
My choice would be to sign Barry Cofield and Eric Weddle. Those two guys would eat up most of the cap space the Rams have available (remember, that cap number of $35 million is before draftee signings and giving Clayton a contract), but would make the defense one of the most feared units in all of football. As for the other spots, I would make a run at Graig Cooper, bring in Herzlich (with Josh Hull hopefully getting most of the playing time at strongside LB; I think he could end up a very solid player), sign Barnes, and play Greco more. Beyond that, any other upgrades to the team would likely be minor (and some of these upgrades I'm proposing are fairly minor as well, really), but I think those would be more than enough to win the division. I'm not sure if that's a team good enough to do much damage in the playoffs, but I'm also not sure the Rams can necessarily get to that point this year. I think they might need one more really solid draft before we can start talking about this team as really dangerous in the postseason.
Before we can start any of this, though, the NFL has to get the deal done. Let's all cross our fingers and hope to hear that announcement, preferably before the weekend.