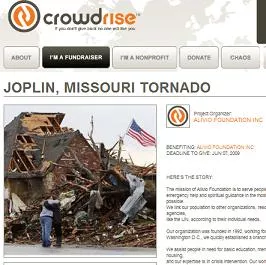 Alivio Foundation has raised more than $9,700 online for Joplin, but where is the money?
Missouri Attorney General Chris Koster announced today that he's filed suit accusing two alleged charities of defrauding donors who thought they were helping victims of the Joplin tornado.
Over the past two months, the Alivio Foundation based in Puerto Rico has
raised more than $9,700
in money supposedly intended for Joplin. Alivio claims on a
Crowdwise page
that it's raising funds for Joplin's St. Peter The Apostle Catholic Church and Caritas (Catholic Charities of Southern Missouri). Yet, according to Koster, neither the church nor Catholic Charities had ever heard of the Alivio Foundation, nor have any area churches received any funds from it. Moreover, it's unclear that Alivio has given any money to Joplin residents.
Koster also sued Steve Blood this week. A Georgia man who operates several online radio stations, Blood's
"StormAid"
was supposed to host a benefit concert for Joplin and victims of a tornado in Tuscaloosa, Alabama. The site has raised $5,000 from T-shirt sales and other donations, according to Koster. Yet, again, none of that money has gone to Joplin residents, says the attorney general, who accuses Blood of using the contributions to pay personal expenses.
Both outfits raised the money online through PayPal. Koster is asking the court to issue an injunction prohibiting both Alivio and Blood from further violations of the Merchandising Practices Act and to require that all funds collected go to the intended recipients. In addition, he is asking the court to require each of the defendants to provide full restitution to donors; pay a civil penalty of $1,000 per violation of the law; pay a penalty to the state of 10 percent of the total restitution; and pay all court and investigative costs.