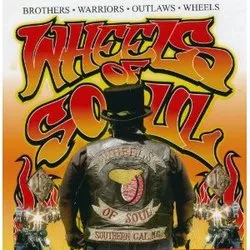 Q: How bad ass is
America's Most Dangerous City
?
A: It employs members of a notoriously violent motorcycle gang as security guards!
Take that, Detroit, Camden, Oakland and all you other cities that think you're so hard!
As the
Post-Dispatch
details today, two of the five St. Louis men arrested last week in a federal sweep of the
Wheels of Soul motorcycle gang
are also city employees. Norman "Justice" Vick, 44, is a part-time security guard at city hall. Lawrence "Pac" Pinkston, 42, is a part-time utility worker with the city's forestry department.
At a hearing Friday to determine whether the men should remain jailed until trial, federal prosecutors revealed that Vick had allegedly used brass knuckles to attack another biker outside a bar in East St. Louis in 2007. At the time, Vick was also a police officer for the north St. Louis County suburb of Berkeley. The victim of the alleged assault later filed a complaint with Berkeley officials, and Vick left the department in 2008 before finding work this year with the city.
St. Louis operations director Sam Dotson tells the daily that Vick cleared background checks before being hired. The city fired both Vick and Pinkston last week following their indictments.
Pinkston, meanwhile, is accused of being a former vice president and secretary for the Wheels of Soul, which federal prosecutors accuse of operating as a
criminal enterprise responsible for murders
, drug trafficking and racketeering.