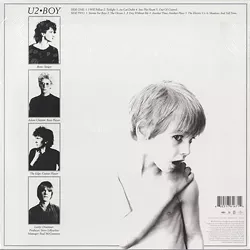 U2 was touring under its "Boy" album when it played Wash U.'s Graham Chapel for $750.
More than 50,000 people attended U2's concert last night at Busch Stadium. Based on the
average price of $103 spent per ticket
for the band's 360 Tour, the Irish rockers left St. Louis with around $5 million in revenue.
That's not $5 million in profit, mind you, with the band spending Lord knows how much renting out the ballpark and setting up, dismantling and
transporting its massive stage
.
Still, it's a far cry from the $750 that concert promoter Steve Schankman paid the band to play its first-ever gig in St. Louis in April of 1981. That show was held at Washington University's Graham Chapel, and as Schankman recently told
Fox 2
, the band played its hit "I Will Follow" twice because they ran out of material.
"I remember the show being ovation after ovation because the thousand people who came to that show -- and paid the $15 or whatever it was back then -- really knew about this band, probably more so than I did. But think about what's happened ever since then," says Schankman, who still has the contract he signed with U2 in 1981.
A
set list posted online
confirms Schankman's recollection, and ups the ante. After opening with "The Ocean," "11 O'Clock Tick Tock" and "I Will Follow," U2 ran through another ten songs, including the first encore, then closed the show with "11 O'Clock Tick Tock," "The Ocean" and, finally, a reprise of "I Will Follow."
In the middle of last night's show at Busch, Bono paused between songs to recount the Graham Chapel story, pulling a crumpled sheet of paper out of his pocket and reading aloud the entire sixteen-song set list.
-----
For more St. Louis news and gossip, follow me on Twitter @chadgarrison or Facebook at Daily RFT.