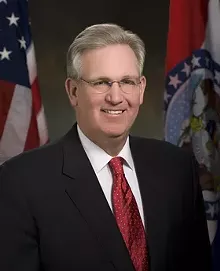 Governor Jay Nixon allowed a bill banning late term abortions to become law.
He didn't sign it, and he didn't veto it either.
Confronted with a
bill from the legislature
that would add further restrictions to late-term abortions,
Governor Jay Nixon did nothing
-- allowing the bill to take effect tonight at midnight.
The bill
bans all abortions after 20 weeks
, unless the fetus is not viable or the mother's health is at risk. As St. Louis Public Radio reports, there were 63 abortions performed in Missouri in 2009 that would have been affected by the new restrictions -- less than one percent of the total number of abortions performed.
Physicians who perform a late-term abortion without justifying it for health or viability reasons could face up to a year in prison.