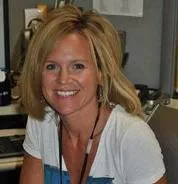 Jacque Sue Waller at work for Blue Cross.
Authorities investigating the disappearance of a southwest Missouri mother
missing since June 1
received their first tangible discovery in weeks on Monday when a folder containing Jacque Waller's business cards was found on a road outside Cape Girardaeau.
A local resident discovered the cards in a Blue Cross Blue Shield packet along Highway 177 near the site of a Proctor & Gamble office. Waller worked for Anthem Blue Cross Blue Shield prior to her disappearance.
At this time, it's not known whether the packet containing Waller's business cards are evidence in her disappearance or just a fluke discovery of roadside litter. The material is currently being tested for fingerprints and other clues.
Lt. David James of the Cape Girardeau County Sheriff's Department told the
Southeast Missourian
that his office is now asking property owners near the discovery to look for additional items that may have belonged to Waller.
"That's a force multiplier for us," James said, adding that the person who discovered the cards regularly travels that stretch of road and just noticed the material this week.
Waller estranged husband, Clay Waller, was the last to see the 39-year-old Jacque, with whom he has three five-year-old triplets. According to Clay Waller -- whom police have named as a
"person of interest"
and say is
no long cooperating
with their investigation -- the two got into an argument about their pending divorce case and Jacque left his Jackson, Missouri, residence angrily by foot.