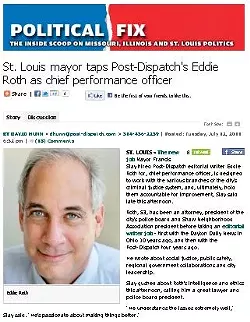 Reported stltoday.com: "Slay gushed about Roth's intelligence and ethics..."
One could say that
Post-Dispatch
editorial writer Eddie Roth wrote himself into a job.
As Mayor
Francis Slay announced Tuesday
, he's hired Roth for a new title within his administration called "Chief Performance Officer." Roth begins work August 8. He'll be paid a salary of $75,000.
Roth's new gig will have him
implementing IBM's suggestions
on how to make St. Louis a safer city. As you'll recall, the IT company recently spent several weeks reviewing public safety procedures in St. Louis to discover that (shock of all shocks!) the city's numerous crime-fighting fiefdoms (cops, judges, prosecutors, parole officers, sheriff's deputies) weren't sharing enough information with each other and some bad guys were slipping through the cracks.
In an
editorial in the Post-Dispatch
, penned on behalf of the daily's editorial board, Roth wrote as if IBM's findings were on par with solving Fermat's Last Theorem and concluded his piece by arguing: "There is no excuse to avoid putting these home-grown recommendations into action right away."
Ring, ring. "Hey, Eddie. Francis Slay, here. About that last line in your editorial..."
For close readers of the
Post-Dispatch
, however, Roth's hiring hardly comes as a surprise. Nor should it be concluded that Roth earned the job for just one article.
While Roth likes to
argue that other journalists are lazy
, he's been the de facto house organ for Slay's administration inside the
Post-Dispatch
for quite sometime -- going to bat for the mayor and his office most any chance he gets.
For proof of that, just scroll through his
Twitter feed
for links to the pieces he's promoted. Our favorite in recent memory was from last month when Roth tried to brush aside criticism of Slay's chief of staff, Jeff Rainford, after two Marines were
mugged downtown during Marine Week
. At first Rainford attacked the media for reporting the incident. When that backfired, Rainford attacked the Marines for being drunk -- as though that justified them being mugged.
In a post
on the Post-Dispatch's "Editorial Notebook" blog
, Roth dismissed Rainford's action, informing readers that the mayor's chief of staff just suffered from a "Marine-like loyalty to St. Louis."
The same might be said about Roth and his dedication to the mayor's office.
So, good luck, Mr. Roth. You and Rainford should get along swimmingly now that you're working together -- aboveboard. And here's hoping that the
Post-Dispatch
can find a more critical and independent journalist to opine on City Hall.