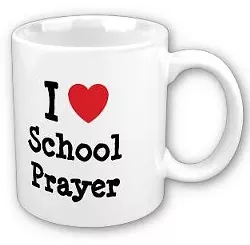 Don't drink the Kool-Aid, warn plaintiffs.
In November 2012, Missouri voters will be asked to approve an amendment to the state constitution, titled
Religious Freedom in Public Places
.
According to the sponsor of the resolution, Republican Mike McGhee of the western Missouri town of Odessa, the amendment would make it
"okay to read a Bible in study hall"
and "pray briefly before a City Council meeting." The amendment also requires public schools to prominently display a copy of the Bill of Rights and the U.S. Constitution.
But that's not all the amendment would do.
It also states that school children cannot be compelled to participate in any assignments that violate their beliefs. Moreover, the amendment goes out of its way to deny inmates any additional religious freedoms under the state constitution, noting that "the resolution cannot be construed to expand the rights of prisoners in state or local custody beyond those guaranteed by federal laws."
Voters at the polls, however, won't know about those last two provisions. That's because they're excluded from the ballot language that asks:
Shall the Missouri Constitution be amended to ensure:


That the rights of Missouri citizens to express their religious beliefs shall not be infringed;
That school children have the right to pray and acknowledge God voluntarily in their schools, and;
That all public schools shall display the Bill of Rights and the U.S. Constitution.
Now two Missouri women are challenging that ballot language. Last Thursday, the Reverend Madeline Coburn, a Methodist minister who works with prisoners, and Brenda Bredemeier, an associate professor at University of Missouri - St. Louis, sued the state in an attempt to change what voters will see at the polls.
In their
lawsuit filed in Cole County
, the women argue that the ballot doesn't sufficiently state that the amendment would reduce the religious rights of inmates and deny children a well-rounded education. As Bredemeier's attorneys with the ACLU argue, the amendment "would detract from educational quality by curtailing students' exposure to significant concepts and theories that are integral to related domains of study and underlie important public discourse."
Coburn and Bredemeier want the ballot language changed to the following, which they believe more accurately reflects its intent:
Shall the Missouri Constitution be amended to ensure:


Repeal the the state constitutional right of prisoners to religious freedom and liberty of conscience and belief, and;
Create a right for any student, in public or private schools, to refuse to participate in assignments or classes that violate the student's religious beliefs?