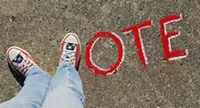 A
lawsuit filed in Cole County yesterday
asks the courts to strike the constitutional amendment known as the "Voter Protection Act" from Missouri ballots in 2012, calling the ballot language approved by legislators "insufficient," "unfair" and "misleading."
The amendment stems from a bill that passed both chambers here this spring, only to get vetoed by Governor Jay Nixon. It would require voters to produce a current Missouri driver's license or state-issued ID in order to cast a ballot at the polls.
And while that may not sound like an onerous requirement to a middle-class, able-bodied adult, Denise Lieberman, one of the attorneys behind the new suit, says that scores of Missouri voters will be severely inconvenienced by the new restrictions.
Lieberman is a senior attorney for the Advancement Project. Formerly the legal director of the ACLU's office in St. Louis, she's based in Missouri, although the organization is based in Washington, D.C.
She says there are as many as 230,000 registered voters in the state who will be affected by the new restrictions -- some disabled, some students, some who simply don't carry a current ID.
"In Missouri, you're already required to show an ID to vote," she says. "The question now is, how narrowly can we restrict the definition of ID -- to require a 'non-expired Missouri or federal ID'? That's really what the question is."
In fact, the Missouri Supreme Court has previously found such requirements to be unconstitutional because they interfere with the state's constitution guarantee of a right to vote, Lieberman says. That's one reason this measure would actually amend Missouri's constitution, not just change the law.
While the lawsuit ostensibly seeks to strike the ID law from the ballot merely on the basis of its misleading language, the suit (which
is online here
) tells the story of eight Missouri voters who believe they could be disenfranchised by the new restrictions.
One of them, Emmanuell Azis, is a registered voter with multiple sclerosis. He lives in a nursing home and hasn't driven a car in years. Currently, he can vote with his expired driver's license, but under the new rules, Lieberman says, he'd be forced to get a new one. That could mean visiting as many as three government offices.
"For some of these people to visit one office, it takes an entire day," Lieberman says. "We're talking about having to visit multiple offices -- it's an incredible burden to get a document they wouldn't otherwise need."
The legislature's passage of a voter ID last session was part of a national movement. No less than two-thirds of states nationally considered such legislation this year, Lieberman says. In thirteen states, the legislation was approved.
"It's a very concerted effort in the wake of significant new voter registrations in minority communities in 2008 -- and significant turnout in those communities in 2008 -- to try to implement repressive voting laws," she says.