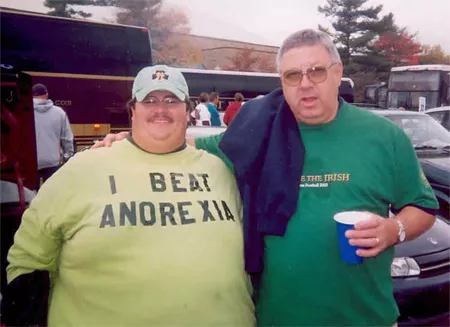 image via newsgroper.com
Missouri: getting fatter every minute.
Fat people are taking over the world! According to a new report from the
Trust for America's Health (TFAH) and the Robert Wood Johnson Foundation (RWJF)
, twelve states now have obesity rates above 30 percent.
And guess what? We're one of 'em.
As the concerned reporters explain, four years ago, only one state's population was 30 percent obese. But today, when 30.3 percent of Missourians weigh in as obese,
we still rank only eleventh out of 50 states
on the fat chart. (Twenty years ago, incidentally, only 11 percent of us were obese...making for a pretty big increase of big people.)
And if you look at the combined obese/overweight stats, we do even worse: 65.6 percent of Missourians are either overweight or obese. That makes Skinny Minnies a distinct minority.
So who's the fattest in this Big Fat State? Statistically, the report finds, black Missourians are disproportionately likely to be heavy. Latinos are skinniest; whites are in the middle, and apparently we don't have enough Asians to count, but we're guessing they probably put all of us to shame. People who haven't graduated from high school and those who make $15,000 or less a year are also more likely to be overweight. (Weirdly, the report's authors don't say anything about pregnant ladies -- aren't
they the cause of all this trouble
?)
Naturally, the report's authors would like to use this announcement to push for policy changes.
As they note
,
Twenty-nine states not including Missouri limit when and where competitive foods (foods and beverages sold outside of the formal meal programs, through à la carte lines, vending machines and school stores) may be sold beyond federal requirements.

Twenty-six states not including Missouri have now established farm-to-school programs. Five years ago, only New York had a law establishing a farm-to-school program.

Sixteen states not including Missouri now have Complete Streets laws. "Complete streets" are roads designed to allow all users - bicyclists, pedestrians, drivers, and public transit users - to access them safely. Seven years ago only five states had these laws.

So, maybe we should get on changing all that. But first, let us just finish our mid-afternoon burrito...