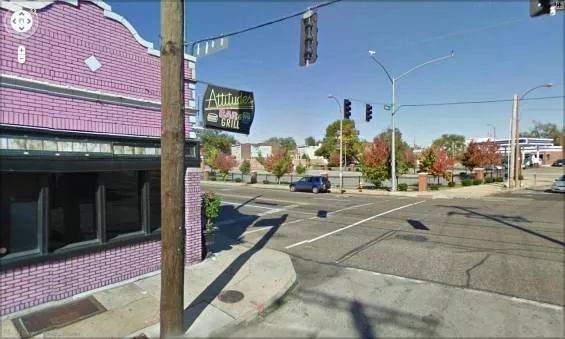 John Courtney, 29, was apparently killed on Manchester by a hit-and-run driver.
UPDATE: The Circuit Attorney's Office announced at 3:30 p.m. that Justin M. Kramarczyk has been charged with felony leaving the scene. See the end of our post for more details.
Here's a sad update to a story we briefly mentioned earlier in our crime roundup: The young man who was struck and killed by a Hyundai just after midnight July 4 has been identified as John Foster Courtney.

Courtney, 29, lived in the 2200 block of Oregon, near Russell and Nebraska. Police originally reported that he was struck while crossing Manchester at Sarah Street, although KSDK reports that he was merely standing outside a bar on Manchester.
Witnesses tell Daily RFT that the bar in question was Just John, where Courtney's rugby team had been serving as guest bartenders.

The Hyundai fled the scene; its driver was arrested yesterday afternoon. Police have identified him as a 24-year-old white man. Police investigators are presenting their case to prosecutors today; we'll get a name and a mugshot for the suspect if warrants are issued.

Courtney died at Saint Louis University Hospital at 11:30 last night -- 23 hours after the hit-and-run.

We'll have more on this sad story as it develops.

UPDATE: Our readers are telling us, and the Post-Dispatch confirms, that Courtney was down the street in front of Just John when he was hit. Courtney, a rugby player, was part of the St. Louis Crusaders, which had been guest bartending at the place that night.
UPDATE: This afternoon, the circuit attorney's office identified the suspect in the case as 24-year-old Justin Kramarczyk. He's been charged with a felony count of leaving the scene of an accident.
Kramarczyk was observed drinking prior to the incident, according to a probable cause statement from police investigators. Also, per the statement, "people observed Defendant driving fast prior to Defendant running down" Courtney.
According to the statement, Kramarczyk returned to his home after striking Courtney with his Hyundai. Police subsequently found damage to his front windshield and hair and blood "visible on the windshield and other areas."