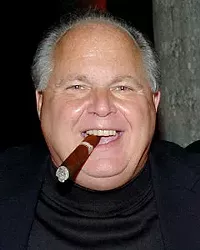 Rush Limbaugh is cashing in on the tea party schtick with, yes, tea.
As if that tornado wasn't bad enough, this weekend, the town of Joplin, Missouri, got a visit from
Rush Limbaugh
.
The bombastic radio host (and Missouri native) was there to promote a new product called
Two if By Tea
-- a bottled ice tea which gets its name from Paul Revere's secret signal and relies heavily on Founding Fathers gimmickry for its marketing plan. (Seriously: Check out its website; they're laying this stuff on
thick
.)
Randy Turner, the Joplin teacher behind the Turner Report blog,
has posted a video of Limbaugh's remarks
.
In the video, the Cape Girardeau native mentions the tea only briefly. "We have this new little company we started -- we wanted to bring a truckload in. But we made sure -- we didn't want to intrude; we wanted to add to and be part of your event tonight -- to show a little gratitude and keep the spotlight on your city," he says around the 4:30 mark of Turner's video.
It's hard to tell whether the crowd is tolerating El Rushbo or eating up his remarks. At the end, though, he does pledge an ongoing commitment to the city, which
suffered through one of the deadliest tornadoes in recent history on May 22
:
"People say, 'What are you going to do? What I'm going to do is keep the spotlight on Joplin, Missouri.' ... You have a great future. You are Americans. We are all Americans. Remember, there's no stopping you -- you define it -- you can be the best you can. Go for it!"