We all think we know
Colby Rasmus
. Sure we do. Hell of an athlete, occasionally seems to not have his head all the way in the game. Quiet kid, awfully shy. Maybe not the brightest bulb in the scoreboard, if his interviews are any indication. Or, then again, maybe he's just too shy to interview well. Tough to say, really. But still, I would wager that 90% of the good people of St. Louis believe they've got Colby Rasmus pretty much figured out.
Well, I'm here to tell you we may not know the Alabama Slamma nearly as well as we think we do. For instance, did you know Colby Rasmus is, in fact, a world-class SABR nerd?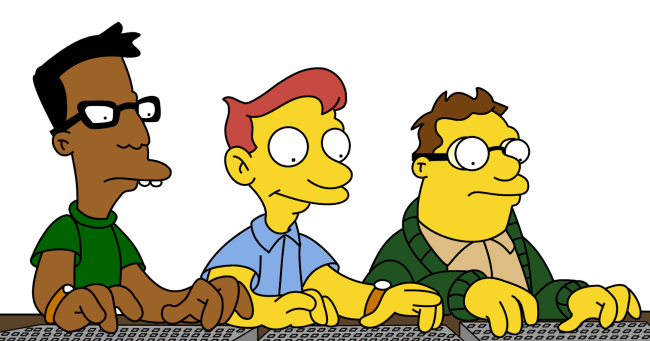 Colby Rasmus, center, is shown here with a pair of his friends running DIPS projections.
Okay, maybe not a world class SABR nerd; he's not exactly
Bill James
or
Tom Tango
. (And if you don't know who either of those people are, don't feel bad. They're giant nerds who only other giant nerds of a very specific type care about. And yes, I am one of those nerds, before you ask.) But even so,
there was a quote in a recent article on the Cards' website about Colb
y in which Razzle Dazzle himself made what was, to me at least, a rather surprising statement.
To wit, when asked about his recent month-plus slump, he had the following to say:
"It's definitely been a weird one for me," he said. "Normally when I struggle, it's mostly because I'm punching out left and right. Somebody said something the other day [that] my average on balls in play is, like, .210 or something. It's not good."



That's right, ladies and gentlemen, Colby Rasmus just explained a slump by citing his batting average on balls in play.
Okay, it's one thing when nerds such as yours truly starts throwing around the ol' BABIP. But a player? Players are supposed to make fun of guys like me! Players are supposed to
go all Raul Ibanez on us
when we write things on our blogs. Players are
not,
under any circumstances, supposed to go around quoting our own advanced metrics at us. I mean, sure,
there was Brian Bannister
, but he was an outlier. And any good statistician can tell you what you do with an outlier. You ignore him, damn it! Plus, Bannister was not very, um, good. He was interesting, yes, but not exactly a perennial all-star. Makes it easier to look at him as just sort of an interesting aside, you know?
But what do we make of this? An actual, bona fide quality major leaguer quoting BABIP at us? Well, maybe this is all just one big cosmic joke being perpetrated on those of us with computers who think ourselves so terribly clever. Or, maybe BABIP is the sort of thing players have understood for years, and we shouldn't be quite so surprised. After all, the guy going through a run of bad luck should understand sometimes things just don't fall your way better than anyone. He also probably understands today's bad luck can be tomorrow's good luck just as easily.
Still, I can't say I wasn't a little shocked to hear Colby Rasmus tossing around a concept you can bet Rick Horton or Al Hrabosky would likely mispronounce on purpose and then make fun of. I fully expect the next time Jason Motte has a rough outing he'll tell everyone he hated to give up that bases-clearing double, but he just can't stand it when his ERA and xFIP are so far out of whack.