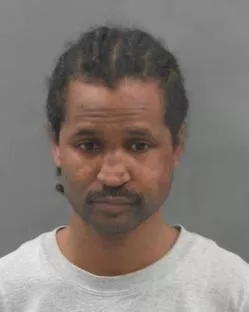 Cornell Hampton is a serial kidnapper, according to prosecutors.
The "Good Samaritan" who in February helped a woman get her car out of the snow and ice in the Central West End and then allegedly
kidnapped and raped her
, committed a similar crime a month earlier.
According to charges filed Friday, Cornell Hampton kidnapped a woman and her baby from the the parking lot of the Schnuck's grocery store on Lindell on January 3. Hampton is charged in that case with attempted robbery, sexual misconduct, tampering with a witness and two counts of kidnapping.
Per the Post-Dispatch
, the woman was taking her infant daughter out of a car seat, when Hampton, 38, came up to her and threatened to hurt her and her baby if she didn't get back into the car and drive him where he wanted to go.
The woman complied, and drove him to the 4400 block of Forest Park Boulevard. Once she parked the car, Hampton tried to grab her purse and struggled with her as he tried to get it.

While they were inside the car, Hampton told her he wanted to sodomize her, she told police. The woman was able to get the attention of passersby. Hampton told her if she told anybody what he did, he would kill her, then he left the vehicle.
Earlier this month the St. Louis Grand Jury Association
awarded three men who called police
in February after they heard screams from the woman who Hampton allegedly kidnapped from the Central West End in February. The witnesses saw Hampton force the victim into an abandoned building along Delmar Boulevard. Minutes later police entered the dwelling to reportedly catch Hampton in the act of raping the woman.