How do you come up with a scientific theory that will totally rock the world and continue to be debated 150 years later? If you were Charles Darwin, you'd take a long boat ride to the Galápagos Islands and spend lots of time examining the beaks of the local finches, a process he described in his books On the Origin of Species and The Voyage of the Beagle.
And then you'd go back to England and spend lots more time in your study in the company of Polly, your beloved Jack Russell terrier (and some of the finches you stuffed and preserved and schlepped home from the South Pacific), reading books to bolster your theories and transforming yourself into a "machine for grinding general laws out of large collections of facts." (There's evolution for you!) The second part of this process has been far less documented -- until now.
Working with scholars from Cambridge University, the American Museum of Natural History in New York and the Natural History Museum in London, a team from the Missouri Botanical Garden's Center for Biodiversity Informatics plans to digitize Darwin's entire personal library -- not just 1,480 books, but also the copious marginalia enclosed therein. The first 330 books are now available online at the Biodiversity Heritage Library.
Darwin was, apparently, the sort of reader who never picked up a book without first making sure he had a pencil nearby.
"While there has been much focus on his manuscripts and correspondence, his library hasn't always received the attention it deserves - for it is as he engaged with the ideas and theories of others that his own thinking evolved," Anne Jarvis, university librarian at Cambridge, said in a press release.
Take, for instance, a note Darwin scrawled in the margin of his friend Charles Lyell's Principles of Geology, a book whose central argument, that geologic change was the result of many tiny alterations over a long period of time, would strongly influence Darwin's own theory of natural selection.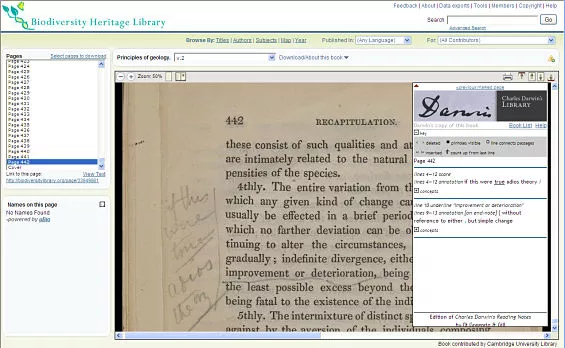 A screenshot from the Biodiversity Heritage Library showing Darwin's annotations on a page of Lyell's Principles of Geology.
Lyell wrote, "The entire variation from the original type,which any given kind of change can produce, may usually be effected in a brief period of time, after which no farther deviation can be obtained by continuing to alter the circumstances, though ever so gradually."
Darwin's response: "If this were true adios theory."
Darwin's library contained not only scientific texts, but also books on the humanities which he also used to shape his theories. The online library is completely indexed, and researchers (or just casual browsers) can search both the original books and Darwin's annotations. The search engine will return digitized scans of the pages and also uncorrected text.
"Getting to make these historic books available to the world for the first time is quite an honor," said Chris Freeland, director of MoBOT's Center for Biodiversity Informatics. The project was funded by the Joint Information Systems Committee (JISC) and National Endowment of the Humanities and is ongoing.