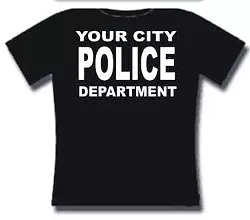 Yes, all you need to mimic an officer is Internet access and $17.95 (excluding shipping).
Update:
The woman later admitted to police that she made up the story. She gave her auto to two men whom she owed money. Authorities are now seeking to charge her with filing a false police report. More information if/when warrants are issued.
Original story follows...
A 43-year-old woman in the Carondelet neighborhood of far south St. Louis says she was carjacked early this morning by men posing as police officers.
According to the
real
police, here's how it went down:
Around 1:40 a.m. the woman says she was getting into her vehicle in the 6400 block of Pennsylvania with the intention of parking the car in a rear garage. Just then, two men wearing black T-shirts with the word "Police" emblazoned across the chest approached and demanded that she get out of the vehicle. One of the suspects held a handgun. The woman complied and the 20-something-year-old men drove off with her car.
The police add that the woman had "several inconsistencies" to her story. An investigation is ongoing.