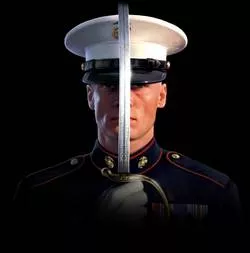 The Marines last night were without their swords, but they did have a pocketknife.
The few. The proud. The wallet-less.
Two military men in St. Louis for "Marine Week" are recovering following an early-morning mugging downtown.
According to police, the Marines -- ages 21 and 22 -- and another man were walking eastbound on Chestnut Street at about 2:34 a.m. Monday when they were confronted by two men who wanted to sell them jewelry.
When the Marines, who were not in uniform, declined to make a purchase, an argument broke out. The Marines told police that one of the suspects then punched the 22-year-old Marine in the face. His fellow Marine then attempted to pull out a pocketknife, according to police, but it was taken from him by one of the suspects who poked the punching victim with the weapon. The suspects then stole one of the Marines' wallets and vanished into the night, leaving the punching and poking victim with a minor injury.
But could it be that the Marines didn't tell the whole story? Or is it that city leaders just
can't handle the truth
when it comes to a few good men being victims of crime in St. Louis?
This morning, Jeff Rainford, chief of staff for St. Louis Mayor Francis Slay, began attacking the credibility of Marines
via his Twitter account
and criticizing St. Louis media for passing along information provided by police.
Among the allegations Rainford makes is that the Marines were too inebriated to even know what happened.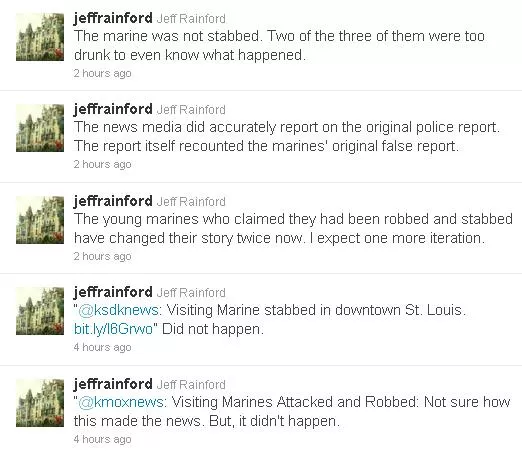 A spokeswoman for the Marines does contradict -- somewhat -- the police report. She
tells the Post-Dispatch
that the Marine who pulled out the pocketknife was the one who was punched in the head.