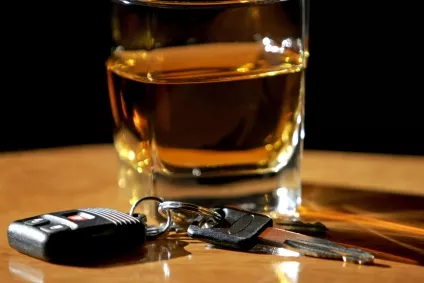 If you're on the roadways, you may have no right to refuse a blood test, the Missouri Court of Appeals suggested in a ruling today.
Do law enforcement officers in Missouri have the right to order a blood draw if they suspect a driver is drunk -- even if they haven't gotten a judge to issue a warrant?
The Missouri Court of Appeals believes the answer is yes. In
an opinion issued today
, the court indicated it would be inclined to overturn the long-held precedent in Missouri saying that a judge's warrant is needed. They're now forwarding the case to the state supreme court to get a definitive answer.
This could be very bad news for drunks. And, yes, the Fourth Amendment -- which guarantees citizens the right to be free from unreasonable searches and seizures.
At issue is a case involving a Cape Girardeau man, Tyler McNeely, who was pulled over after speeding and weaving in October 2010. McNeely refused to give a breath sample or a blood sample -- which is more accurate than a Breathalyzer and increasingly used in DUI cases across the nation.
But the officer who'd pulled over McNeely wouldn't take no for an answer. With a lab technician's help, he ordered the blood draw anyway. And when it showed McNeely's blood-alcohol level was well over the legal limit (0.154, which is almost twice the limit of .08), he ordered him taken to jail.
McNeely was charged with DUI, but his lawyers argued the blood test results should be thrown out -- and the trial court judge agreed. After all, precedent in Missouri has long held that you can only withdraw blood without consent if you have a warrant signed by a judge or "exigent circumstances." (Circumstances, for example, such as a delay between a car accident and being taken to the hospital -- at that point, if they don't draw blood quickly, the evidence can be lost as the driver sobers up.)
But prosecutors argued that should no longer be the standard -- and the appeals court suggested in its opinion today that it was likely to agree. They pointed out that Missouri has enacted an "implied consent" statute -- basically saying that using public streets is a privilege, not a right. By having a driver's license, a motorist "impliedly consents" to having their blood analyzed if they're suspected of driving drunk.
Now, state law had long contained an out to that implied consent. If a person refuses any such blood test, the law held, "then none shall be given." But, as the appellate court notes, the Legislature has removed that important clause from the statute. And that could change everything.
"No Missouri case has dealt directly with the import of the removal of the words 'none shall be given,'" the justices write.
While the justices believe the removal of "none shall be given" would allow warrantless searches in Missouri, they acknowledge such searches would be a "significant departure from current case law." So they decided to kick the Cape Girardeau case to the state's highest court in light of "the general interest and importance of the issues involved."
So, here's the score: Tyler McNeely gets to be the test case for intoxicated drivers everywhere in the Show-Me State. And unless the Missouri Supreme Court disagrees with the conclusions of the appellate court, you may have literally
no right
to refuse to a blood test if you're at the wheel of a car.
The Founding Fathers have got to be rolling over in their graves right now -- or at least the ones who enjoyed a good frosty beverage or two. The teetotalers always seem to be OK with this kind of stuff.