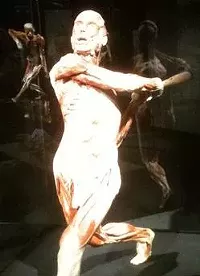 bodyworlds.com
What Pujols would look like if he had, ahem, no skin in the game.
So, let's see if we have our timing right here.
At noon yesterday, word first leaked out that x-rays had revealed
Albert Pujols had broken a bone in his forearm
and would miss four to six weeks of play.
For Cardinals fans the news was anything but good. But for at least one savvy marketer, the injury was a great selling point.
Just a few hours after Pujols injury made news -- 5:30 p.m. -- Daily
RFT
received the following email from the Mary Hediger, communications director for BODY WORLDS & The Brain, the human cadaver exhibit
now on display at the Science Center
.
Want to SEE inside the body, where Albert Pujols' wrist injury is located?

Come on over the the BODY WORLDS & The Brain Exhibition at the Saint Louis Science Center, and check out "The Baseball Player" full body plastinate on display.

Besides "The Baseball Player," other featured sports-oriented plastinate specimens include "The Skateboarder," "The Soccer Player," "The Yoga Lady," "The Ringman," "The Head Diver," "The Muscle Man" and "The Ice Skating Couple".
Now that's the kind of marketing gusto Daily
RFT
wants working for our team. Mary, could you lend us some advice? We could use the publicity!
P.S. Let us know whose wrist we need to break.