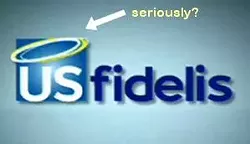 Yes, an angel's halo really did adorn the US Fidelis logo.
I admit it. Given all the
allegations regarding bad business practices
made against brothers Darain and Cory Atkinson over the past couple years, I thought they'd
already
been criminally indicted.
Apparently not. Well, not until last week, anyway.
In an indictment issued last Wednesday -- and made public yesterday -- the Atkinsons are charged with unlawful merchandising practices, stealing and insurance fraud while operating their now-bankrupt company, U.S. Fidelis.
Just two years ago, the Wentzville-based business was an industry leader in the shady world of extended auto warranty retailers. The company had 1,100 employees and generated millions in revenue. Then came the
report from the Better Business Bureau
in April 2009 that it had received more than 33,000 inquiries and more than 1,100 complaints against U.S. Fidelis in the previous 36 months.
Just like that, as quickly as as it had mushroomed,
U.S. Fidelis collapsed
, and the Atkinson brothers were forced to liquefy their assets,
selling off their exotic cars and monstrous mansions
, to satisfy creditors.
And now, adding insult to injury, comes the indictment that's being personally handled by the state's top prosecutor, Attorney General Chris Koster. The indictment specifically alleges that the Atkinsons:
kept refunds that were due consumers

charged fees in excess of the amount stated in the contract
told consumers they would get a pro rata refund if they canceled the contract, while intending to keep a portion of any refund.
The Atkinsons are also accused of misleading consumers into believing that:
U.S. Fidelis was affiliated with auto manufacturers and dealers
the consumer's warranty had expired or was about to expire
the consumer had the opportunity to extend or reinstate the manufacturer's warranty.
Darain Atkinson, a prior felon convicted in the 1980s of theft, forgery, burglary and manufacturing counterfeit Federal Reserve Notes, could get life in prison if convicted. His brother, who also has a prior felony for trespassing, could face up to fifteen years in prison if convicted.
Too bad that the government can't also prosecute the brothers for hypocrisy in marketing U.S. Fidelis as a wholesome "faith-based" company. You know, the kind that
sponsors Christian-themed New Year's Eve parties
.