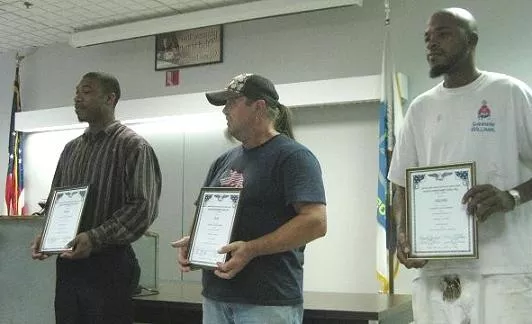 Darrell Wallace, Terry Kennedy and Timothy Peterson accept awards Wednesday.
The
story from this past February
was almost too shocking to believe. A 23-year-old woman was struggling to free her parked vehicle from the snow and ice in the Central West End when a man walked by to lend a hand.
After pushing the woman's vehicle from the wintry mix, the man allegedly hopped in the car and demanded a ride. Police say when the woman refused, the man placed her in a choke hold and demanded that she drive. They ended up blocks away, in front of an abandoned apartment building in the 4100 block of Delmar.
Darrell Wallace, a nearby resident, heard the woman screaming as they exited the vehicle. So, too, did Timothy Peterson and Terry King, two men working in the apartment building where Wallace lives.
"It didn't really register at first," said King yesterday. "That building gets a lot of people going into it to do drugs or have sex, but this seemed different. She was kicking and screaming."
The three men -- Wallace, Peterson and King -- notified police and then went outside to get the license plate number of the suspect vehicle and wait for authorities to arrive.
"We didn't want him to get away," recalled Peterson.
By the time the first squad car arrived, the men could no longer hear the woman. Police say they entered the building to witness the suspect in the act of raping the victim. When officers pulled the man away, they say he fought back, kicking at officers until he was eventually subdued.
Cornell Hampton, 38, now faces charges of forcible rape, forcible sodomy, kidnapping, assault and resisting arrest. And while the victim was savagely harmed in the crime, Captain William Swiderski, of the police department's Eighth District, acknowledged Wednesday that it could have been worse.
"Who knows what would have happened to the victim had it not been for these three citizens stepping up," Swiderski said at an awards ceremony at the police department's north patrol headquarters.
"These men did what we tell people to do," said Raymond Brodzinski, a member of the
St. Louis Grand Jury Association
that hosted the event. "Don't get involved physically, but do notify the authorities."
Still, one wonders: Were yesterday's honorees concerned at all about what others might think, especially those who
discourage people from "snitching"
on criminals?
"I know there are family and friends of the suspect who live in the neighborhood," said Timothy Peterson. "But with something like this, I don't care. What's right is right; what's wrong is wrong."
Adds Terry King: "Its time we take our city back. Crime is one of our biggest problems. People need to stand up against it."