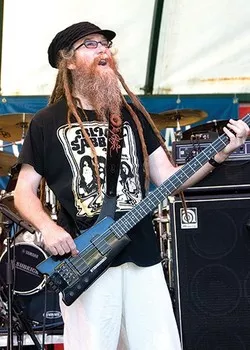 Jimmy Tebeau: The feds now claim he "consciously" managed his campground for the "specific purpose" of facilitating drug sales.
Seven months after the
federal government first attempted to seize Jimmy Tebeau's 300-acre Camp Zoe
in rural Missouri via asset forfeiture, claiming its popular Schwagstock music festivals have become havens of drug dealing, Tebeau has been indicted.
The 44-year-old Cape Girardeau resident faces a single felony count of "operating premises for the facilitation of illegal drug use," according to a press release from the U.S. Attorney's Office.
On its face, that appears to be a highly unusual charge for a land owner/music promoter. It neither alleges that Tebeau himself sold illegal drugs nor used them personally -- and appears to discount the festivals' music and entertainment value almost entirely.
As the prosecutors' press release summarizes, "According to the allegations in the indictment, Tebeau consciously managed the concerts and campground for the specific purpose of facilitating the distribution and use of multiple controlled substances by the concert patrons."
Note that language: They're not just saying the drug sales happened. They're saying such sales were the entire point of Tebeau's undertaking. Not his love of jam bands or camping fun -- but the "distribution of multiple controlled substances."
Seems kind of shady. But also, perhaps, strategic: The criminal charges could help the feds argue that they're not just greedy guys trying to take Tebeau's land -- they'd previously drawn criticism from both the NORML crowd on the left, and civil-liberties lovers on the right, for attempting to take Camp Zoe via asset forfeiture even though Tebeau had never been charged with any crime. (He was more recently
charged with felony tax evasion
, but that didn't do much to silence critics of the asset forfeiture case.)
Even if this charge is totally spurious, it could give the feds a talking point to combat allegations of government overreach. And it allows them to do a virtual perp walk on a guy who they've apparently been investigating for four years -- and who insists on fighting back.
Former
RFT
staff writer Keegan Hamilton examined the issues surrounding Camp Zoe and Tebeau at length in a
January 2011 cover story
. He also explored the issue of
whether other music festivals have anything to fear from federal investigations like the one targeting Tebeau
. (In a word: yes.)
We'll have much more on this story as it develops.