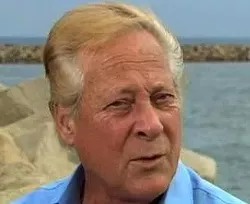 KABC
Bill Warren: Is this the same man we wrote about in 2005?
The name Bill Warren rang a bell; Daily
RFT
just couldn't place it.
Warren, a treasurer-hunter and diver from California, made news this week for his
plan to search the Arabian Sea
for the corpse of Osama bin Laden. Still, something told us that we'd heard Warren's name prior to today's headlines.
Then it hit us -- like a depth charge.
Waaaay back in 2005,
Riverfront Times
reported on a Maryland Heights man who
planned to search the waters off Aruba
for missing American
Natalee Holloway
.
That man's name? Bill Warren.
So, is the Bill Warren who wants to find bin Laden the same Bill Warren who wanted to find Holloway? We can't say for certain. In our exhaustive (two minute) Internet search, we could not find a way to contact Warren(s). Still, we think it's probably more than just a coincidence that the two divers share the same name.
The Warren in the news today says he will use sonar to find bin Laden's body. In 2005, the Warren we spoke to planned a less conventional way to find Holloway. It involved stringing his California-based business partner, Joe Barnett, up to the back of a boat.
"I will rent a boat, and I will pull Joe slowly on a long rope, like shark bait," Warren told us. "When he releases and disappears, you know he's found something."