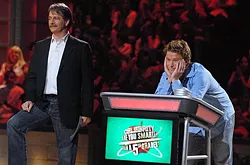 Are you smarter than a Missouri legislator?
Yesterday the
Chronicle of Higher Education
came out with a report comparing the
education levels of state lawmakers
around the nation.
To my knowledge, just two St. Louis news outlets reported on the study:
Riverfront Times
and the
Post-Dispatch
. But looking at the headlines from those two stories, you might think we were writing about two completely different surveys.
Here's the headline we used for our story:
28 Percent of Missouri Legislators Don't Have College Degrees
.
And here's the headline the
Post-Dispatch
used for its report:
Study: Most Missouri lawmakers have college degrees
.
Both are correct. According to the survey in the
Chronicle
, more than 69 percent of Missouri state reps and senators graduated college. That said, we at the
Riverfront Times
were taken aback by the news that thirteen percent of our state lawmakers never went to college and another fifteen percent attended but never graduated.
So, who's right? The
RFT
or the
Post-Dispatch
? Should we be pleased that most of our lawmakers have a college degree -- or aghast that our state is actually above the national average (20 percent) when it comes to the percentage of our lawmakers who didn't earn a college diploma or attend university?
For what it's worth, Mizzou poli-sci professor Peverill Squire tells the
Chronicle
: "Certainly there are no guarantees that college graduates make better lawmakers. They are, however, better equipped, on average, for the tasks they face."
Cast your vote below.