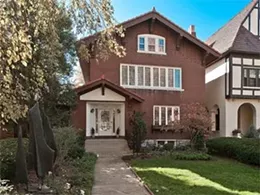 For sale: One fine-looking house with an impeccable literary pedigree.
If you can imagine it, William S. Burroughs was once a child right here in St. Louis. His grandfather, also named William S. Burroughs, founded the Burroughs Adding Machine Company which presumably did pretty well if the Burroughs house at 4664 Pershing Place is any indication. And now it can be yours! (Actually, it's been on the market since November. Daily RFT is not as punctilious about checking Central West End real estate listings as we maybe should be.)
"Oh, my God, it just exudes charm," gushes Vicki Armor, the listing agent. "All the houses in the Central West End have something special. This one has a wood-paneled living room and leaded glass windows, and the backyard has beautiful brick. It's a perfect house for entertaining." In addition, the house has five bedrooms, four bathrooms and three working fireplaces. (And no, Armor doesn't know which bedroom was Burroughs'.)
So what's the problem? Are potential buyers put off by the $587,900 asking price? Or that it's nearly 100 years old? Are they afraid the place is haunted by the spirit of the boy who would grow up to write Junkie and Naked Lunch, become a guiding spirit of the Beat and hippie generations and have all sorts of exotic adventures, including accidentally killing his wife during a drunken game of "William Tell"?
Actually, it's much more prosaic than that, says Armor. "There's no garage. And the house is landlocked, so there's no way to put a garage in. That's the one thing that's making it hard to sell."
The Burroughs family sold the house and moved to Ladue when William was in high school (John Burroughs, no relation). In later years, when the writer returned to St. Louis, he would be far more nostalgic for the old skid row on Market Street downtown than he was for tree-lined Pershing Place.
Although the house lacks two fancy plaques announcing it as a Historical Site like the ones on T.S. Eliot's childhood home on nearby Westminster Place -- or even one fancy plaque -- it still garners a fair amount of attention. Armor says the current owner, Jackie Millstone, has spotted passerby stopping to stare and point. Recently she arrived home to find a crew from HGTV filming on the sidewalk. But Armor's not sure if the attention is because of the house's famous former inhabitant or if it's just because it's a really nice house. She's inclined to think the latter.
"Jackie's got literature on Burroughs and one of his books out on the coffee table," she says. "She puts it out to show to people who come to look at the house. Some people don't even know who he is. But some raise their eyebrows and say, 'Oh, really?'"
For more photos visit here.