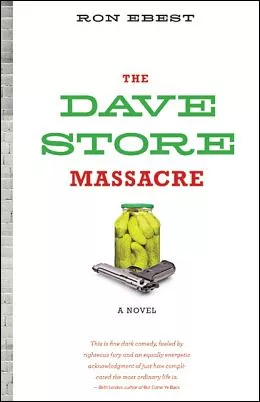 Here's your weekly St. Louis bestseller list for the week ending June 5, as compiled by the St. Louis Independent Booksellers Alliance and based on sales at Left Bank Books, Main Street Books, Pudd'nhead Books, Subterranean Books and Sue's News.
This is why we have a St. Louis bestseller list. Sure, everybody's reading The Passage and A Visit From the Goon Squad and The Help. They may even be reading Stan Musial: An American Life, since its author, George Vecsey, believes Musial is just important to New Yorkers as he is to St. Louisans.
But where else would American City: St. Louis Architecture: Three Centuries of Design by Robert Sharoff make the bestseller list? Or The Dave Store Massacre by Ron Ebest, which doesn't even rate a plot summary on Amazon? Ebest happens to be a native St. Louisan (just like Eric Greitens, author of the number-one title The Heart and the Fist); he currently lives in University City, teaches at St. Louis Community College and recently gave a reading at Subterranean Books, which gave the book some nice props.
Full lists after the jump, including an interesting juxtaposition on the kids' list.
Adult Bestsellers:
1. The Heart and the Fist: The Education of a Humanitarian, the Making of a Navy Seal by Eric Greitens 2. The Passage by Justin Cronin 3. A Visit from the Goon Squad by Jennifer Egan 4. A Moment in the Sun by John Sayles 5. The Dave Store Massacre by Ron Ebest 6. The Immortal Life of Henrietta Lacks by Rebecca Skloot 7. The Help by Kathryn Stockett 8. In The Garden of Beasts by Erik Larson 9. American City: St. Louis Architecture: Three Centuries of Design by Robert Sharoff 10. Stan Musial: An American Life by George Vecsey
Children's/YA:
1. Ladder to the Moon by Maya Soetoro-Ng 2. Napping House by Audrey Wood 3. The Very Hungry Caterpillar by Eric Carle 4. The Hunger Games by Suzanne Collins 5. 13 Little Blue Envelopes by Maureen Johnson 6. On the Night You Were Born by Nancy Tillman 7. My Circus by Xavier Deneux 8. A Pig Parade is a Terrible Idea by Michael Ian Black 9. Divergent by Veronica Roth 10. The Lion, the Witch and the Wardrobe by C.S. Lewis