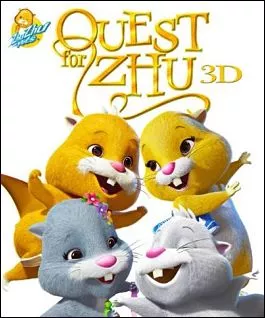 Despite appearances, it's not a horror movie.
Warning to anyone who has a small child or has to spend a lot of time in the presence of a small child: Zhu Zhu pets, the scourge of a couple of Christmases past, are back!
Well, they were never actually gone -- except for the 2009 holiday season when they were impossible to find on the shelves of any retail establishment -- but in November, our hamster friends Pipsqueak, NumNums, Mr. Squiggles and Chunk will star in their very own 3-D feature film, Quest for Zhu. It will be followed next year by a sequel, Power of Zhu. (What is "zhu" exactly? Is it like the Force, only for animatronic hamsters?)
Both films will be straight to DVD, which is a mixed blessing: On one hand, you don't have to pay $40 just to take your kid to the movies. On the other hand, you may be doomed to watch them an infinite number of times.
This wonderful new development in children's entertainment is brought to you by Cepia, LLP, the Clayton-based company who manufactures the award-winning toy and which recently signed a home entertainment and TV rights agreement with Universal Pictures. The DVDs will be produced by Moonscoop, which is also responsible for Clifford: The Big Red Dog, written by Sean Catherin Derek, who also wrote the upcoming Smurfs movie and animated by Prana Animation Studios.
Interestingly, if you look up "zhu zhu pets" in the Internet Movie Database, you find listings not only for the three Zhu Zhu Pet video games and the delightfully-titled Russian miniseries Banditskiy Peterburg: Zhurnalist, but also Penthouse: The Great Pet Hunt, Parts 1 and 2.
Herewith the unintentionally-hilarious trailer: