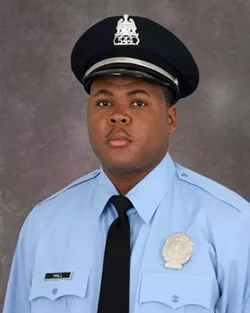 Daryl Hall: Died from apparent "friendly" fire.
So, it turns out that the off-duty St. Louis police officer killed in April outside a downtown bar was likely shot to death by the nightclub's bouncer in a case of mistaken identity.
Officer Daryl Hall died April 24 from bullet wounds to the neck and arm that
police now suggest likely came from the gun of Will Spencer
, the man hired to provide security at the now-shuttered tavern Label at the Ballpark.
Hall, 34, was inside the bar at 2:38 a.m. when shots rang out on the street and he rushed out to confront the alleged perpetrator, identified as 30-year-old Asif Blake.
When Blake allegedly failed to drop his weapon after informed that Hall was a cop, Hall fired off several shots, fatally wounding Blake. Then, just moments after squeezing the trigger, Hall himself was fatally shot when the bouncer allegedly mistook Hall as the gunman whose shots first brought Hall running out of the bar.
Spencer, the bouncer, is a sergeant at Scott Air Force Base, who was working part-time at the nightclub. It's unclear if Spencer has a concealed-carry permit, but that's a moot point anyway. Bouncers working St. Louis nightclubs are not supposed to carry weapons.
It's unclear, too, if Blake has a concealed-carry permit. Blake, 30, reportedly served in Iraq with the Missouri Army National Guard. He has no criminal history in Missouri, according to court records. Moreover, none of the shots he allegedly fired that night struck or injured anyone.
As a cop, Hall is justified in carrying his weapon while off-duty. Still, given its recent history with
off-duty officers shooting people during drunken brawls in bars
, it seems somewhat ludicrous that the police department reportedly encourages its officers to keep their firearms on them at all times --
even while out drinking
.
Indeed, the whole April 24 ordeal makes for a curious equation:
1 bar + 3 men with guns ÷ late-night chaos/misjudgment = 2 violent, senseless deaths
And here we thought that handguns were supposed to make everyone safer -- especially when in the hands of the "good guys." So, tell us Second Amendment folk, what's wrong here?