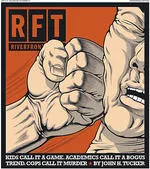 This week's feature story, "Knockout King", revisits the death of Dutchtown resident Hoang Nguyen, who was fatally beaten two months ago while walking home from his local grocery store in broad daylight. The attack was later determined to be part of a violent ritual -- the young teens who participate call it a game -- that involves sucker-punching unsuspecting pedestrians not for money, but for thrills.
News of the this phenomenon first surfaced when police apprehended eighteen-year-old suspect Elex Murphy and brought him in for questioning. According to the detective who interrogated him, Murphy referred to the attack as "a by-product of the 'Knock Out' game."
Murphy has been charged with four crimes, including Murder in the First Degree. He's being held at the St. Louis City Justice Center without bond while the case is brought to a grand jury.
We've provided here a copy of Circuit Attorney Jennifer Joyce's complaint against Murphy, as well as the St. Louis Metropolitan Police Department's Probable Cause Statement, which provides details of Murphy's alleged confession.
Based solely on the Probable Cause Statement, it's interesting to note that Murphy may not have confessed to the actual crime at all; in her summary, Detective Heather Sabin says Murphy admitted simply to being in the vicinity of the attack. (Reached by phone at the St. Louis City Justice Center, Murphy denies even that, claiming that he was asleep when the beating occurred.)
Regardless, police say that the attack was caught on videotape, and that it's clear Murphy threw the first punch.
Murphy was charged with first-degree murder based on prosecutors' belief that, after a period of deliberation, he struck Nguyen with the knowledge that such a blow "was causing, or was practically certain to cause," death, in accord with Missouri legal statutes.