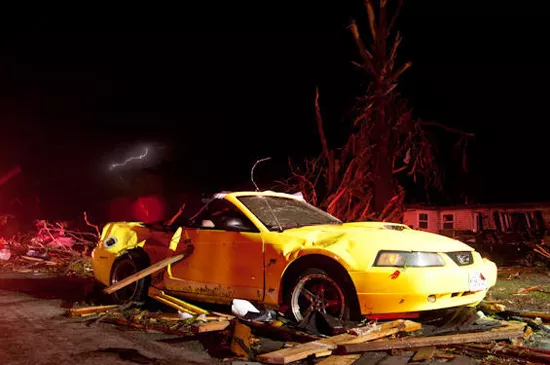 A Cardinals announcement yesterday has added literal meaning to the idea of playing for the home team.
In the past couple weeks, RFT has detailed local efforts to raise funds for victims of the Joplin disaster through food and music -- and the city's best-loved pro team will soon be added to that list of donation efforts.
According to a release on the team's site, the Cardinals and the Kansas City Royals will dedicate their June 17-19 Interleague Play games to the struggling southwestern Missouri city. The intrastate rivals have teamed up off the field to encourage fans to support the "Teams Unite for Joplin" efforts, which have already included food donations from the Royals.
At the mid-June series, baseball fans will be offered the opportunity to chip in by buying commemorative merchandise and participating in an auction of autographed relics and equipment used in previous games. Governor Jay Nixon announced the donation news yesterday at a press conference after a collection of team members visited Joplin with their families and relief officials.
Tickets to the games can be purchased at the Cardinals website.