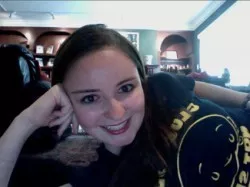 Madeleine Smith, the cutest vegetarian in all the land, according to peta2.
Peta2
, the young adult version of the often-controversial animal-rights group
People for the Ethical Treatment of Animals
, announced Monday the t
wo cutest vegetarians in the country
. And the cutest vegetarian girl in all the land is a St. Louis gal!
Madeleine Smith, 19, beat out hundreds of other herbivores to take the cruelty-free crown.
On the peta2 site
, she says that "a vegan lifestyle is the most important, first, and easiest step in helping animals." Vegans don't eat any animal products -- no meat, dairy, eggs, or anything else that isn't a plant.
The site says she's a college freshman who came to veganism after three years as a vegetarian. It says she enjoys educating other students about a vegan diet and spaying and neutering pets.
As a contest winner, she'll star in a peta2 ad and reign for a year alongside her cute boy counterpart, Corey Ketterman, 15, from Martinsburg, West Virginia. Take that, people who say St. Louis isn't veg-friendly!