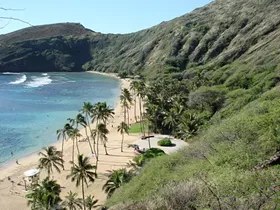 Ah, Hawaii. Land of white beaches, blue water, beautiful palm trees, and, um, second basemen, apparently.
Day one of the draft is in the books, with the first and supplemental rounds completed. The Cards had but a single selection, and I can give you this bit of good news about the player they selected: his name makes it very easy for lazy columnists -- such as yours truly -- to come up with truly horrendous puns. Expect many, many more headlines containing clever gems like the one above in the coming days, months -- perhaps even years.
With the 22nd pick of the first round, the Cardinals selected Kolten Wong, a second baseman from the University of Hawaii. Ah, see? Now you understand how brilliant that title really is! That's the kind of quality you pay for with the Riverfront Times, baby. (Oh wait, we're a free publication. Never mind.) Really, though, my only regret is there wasn't a highly rated player with the name of White in this draft. The material just writes itself! Or should I say...Whites itself?
I am in the groove.
As far as the pick itself, I'm not a huge fan of this selection; the title isn't
just
a clever pun, but also a clever pun with a point to make. I think the Cards could have done better, gotten more upside, with their pick. That being said, I don't absolutely hate the pick, either. Let me explain.
When the Cardinals picked Wong, there were at least three high-ceiling prep pitchers still on the board I think would have been better selections. I worry the organization went for a high floor, rather than a high ceiling, and that's just not the way I prefer a team to approach the draft.
(For my strategy on how to pick them, check out yesterday's post,
Previewing the Cardinals 2011 Draft
.)
The most damning thing you're likely to hear about Wong isn't actually anything bad; it's the faintness of the praise which should tell you why he's tough to get excited about. He's a safe, solid pick who should move through the minor league system quickly and be able to contribute at the major league level in short order. He does not, however, have the look or projection of a future all-star. His defense at second is solid but no better.
On the other hand, I'm also not going to go nuts on this pick the way some others have. There have already been comparisons to Pete Kozma thrown around, and with good reason. In both the 2007 and now 2011 drafts, the Cardinals passed on some very highly touted talent (in '07 it was Rick Porcello, this year there were several names), to take a middle infielder with a modest ceiling who was likely to sign for a near-slot financial commitment. It's a convenient narrative coincidence, with just one problem: the situations aren't at all similar.
As much as I might have wanted a higher-upside player, Kolten Wong is not much like Pete Kozma. Kozma was a high school shortstop who lacked a standout tool, had major question marks about his bat, and was mostly touted for his instincts and intelligence on the baseball field. In other words, he was basically David Eckstein, only a few inches taller.
Wong, for all his warts, is a hitter. And there are two things hitters do: hitters hit, and hitters advance. Unless a guy is clearly such a black hole defensively that he'll be limited to first base or an AL job in the designated hitter role, a player who can hit is going to be a player moving up. And Kolten Wong can hit. Really, he has far more in common with Zack Cox, the Cards' first round pick last year, than a guy like Kozma.
Wong isn't big, going just 5'9" or so, but he's built like the running back he was in high school. Powerful legs and broad shoulders, wide and low to the ground. His swing is sudden and violent, and he boasts some of the best pure bat speed in the draft. That swing has allowed him to hit consistently throughout his life, and it was that swing which won him the Cape Cod League's MVP award last summer. The Cardinals love hitters who have had success on the Cape, and that's Wong all the way.
There's another interesting factor at work here in terms of Wong's offensive ceiling. The Cardinals have shown a proclivity the past few years to emphasize players who faced adverse conditions in their amateur career, and Wong certainly fits that bill. The University of Hawaii boasts one of the most difficult parks to hit in in all of college baseball, with a park factor from 2006-2009 of 73. (A park factor of 100 is average; higher numbers favour hitters, lower numbers favour pitchers.) Compare that to Busch Stadium, which is one of the more difficult hitter's parks in the major leagues, with a multi-year park factor of 95. Or Petco Park in San Diego, a true hitter's graveyard with a PF of 91. Basically, playing in Hawaii's Les Murakami Stadium is like trying to hit in a souped-up version of Petco Park every single game. Whether or not that translates into better numbers in more neutral parks or not remains to be seen.
There is question about how much power Wong will actually hit for. He's immensely strong for his size, yes, but his size is still right in line with the Ryan Theriots of the world, so projecting him to have plus power may still be a stretch. He can run enough to swipe the occasional bag, though he isn't a burner.
In the end, I actually think Kolten Wong should turn out to be a pretty good player for the Cards. I believe in his bat, he plays an up the middle position, and by all accounts he has the drive and passion for the game to work at it. But when I look at the board and who was still left when the Cardinals picked him, I just can't help but be disappointed, thinking of the potential stars they may have passed on to take a perfectly acceptable ballplayer. I like Kolten Wong as a player, but I still think he was the wong guy.
Cue rimshot.
A couple batting practice videos for your perusal:
I'll say this for the kid: the ball does have that certain sound coming off his bat.