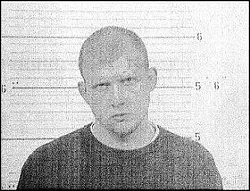 Reggie Allen in a 2005 mugshot. Allen has been charged with some 20 felonies in the past.
Exactly nineteen months after the crime, a Dupo, Illinois, man was indicted today in connection with the killing of Anthony Rice.
Rice was outside an East St. Louis bar called City Nights in the wee hours of October 3, 2009, when he was struck by a pickup truck and left for dead following a confrontation in the tavern's parking lot.
Today 27-year-old Reggie Allen -- son of the City Nights owner and a man with a lengthy rap sheet for other crimes -- was charged with a single count of reckless homicide, a Class-3 felony. Bond was set at $500,000, according to the St. Clair County Circuit Court.
As
Riverfront Times
reported in a
January cover story
, Allen has long been suspected of being motivated -- at least partly -- by racial hostility. Allen is white. Rice is black. People involved in the altercation apparently hurled racial insults at Rice before his death.