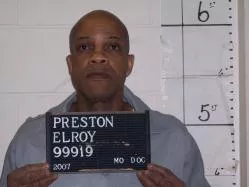 According to the Missouri Department of Corrections, Elroy Preston is known in prison as the "Chicken Man."
We hadn't heard about it, either. That is, until yesterday when we were thumbing through the St. Louis Circuit Attorney's
spring newsletter
.
This issue of the newsletter is mostly about street gangs, but that's not what caught our attention. We were captivated by a small article from the "Crime Files" that recalled a double homicide in St. Louis prompted over a take-out order of food.
The man convicted of the crime -- Elroy Preston -- is Missouri's longest serving Death Row inmate. Here's how the gruesome tale went down, according to the Circuit Attorney's office:
On September 25, 1980, an argument over fried chicken led to two murders in north St. Louis. Prior offender Elroy Preston was staying at a home shared by his brother Ervin, Willie Richardson and Betty Klein.

On September 24, the four, along with Elroy's girlfriend Sherry Brown, began a night of drinking. At some point, Willie and Betty bought fried chicken with Elroy's money, who later became upset when Willie decided to eat the remaining chicken.

At 3 a.m. Elroy woke his sleeping brother and informed him that he was going to kill him, Willie and Betty. Forcing all three to sit on the couch, Elroy grabbed a hunting knife and stabbed Betty, severing her spinal cord. He then stabbed Willie nine times. Meanwhile, Sherry (Elroy's girlfriend) cowered in a corner and Ervin (Elroy's brother) begged Elroy not to kill him. After Willie died, Elroy dipped some of the chicken in his blood and ate it.

The next morning, Ervin's neighbor found Willie's body in the alley. He called the police, who discovered Betty's body in the backyard. On April 20, 1982, Elroy Preston was found guilty of capital murder and second-degree murder and sentenced to death plus life. He has waited longer than any inmate to be executed by the State of Missouri.
________________________________________________________________
Keep up on all the latest St. Louis regional news and gossip by following @chadgarrison on Twitter and Daily RFT on Facebook.