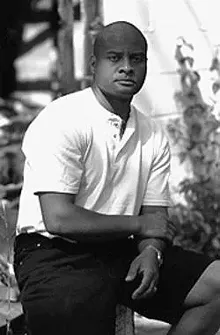 Kinloch Mayor Keith Conway could be stuck in jail if the judge grants a motion to revoke his bond on Friday.
Last Thursday, prosecutors alleged that indicted Kinloch Mayor Keith Conway
violated the terms of his pre-trial release
-- just hours after U.S. Magistrate Judge David Noce handed them down.
And Noce isn't screwing around. In a telephone conference that very day, he issued an order tightening the terms of Conway's release.
He's also set a hearing for 9 a.m. Friday to consider the prosecutors' request that Conway's bond be revoked and the mayor sent to jail.
Conway is facing
two felony counts
, with allegations that he plundered the impoverished city that elected him its mayor to finance payments on a Florida time share, airline tickets and even tax payments.
After pleading not guilty on May 23, he was released from custody on a $25,000 bond, under the condition that he surrender his passport and refrain from contacting any potential witnesses in the case.
But prosecutors allege that, upon leaving the courthouse, Conway almost immediately made his way to City Hall -- and prepared a packet of information to give to the city aldermen, who are, not surprisingly, likely to be witnesses in the case against Conway. He also begged one alderman to give him a key to City Hall, and when the alderman refused, Conway drove to his house to talk him into it.
In light of that, the assistant U.S. attorney on the case, Hal Goldsmith, urged the judge to revoke Conway's bond.
In response, Magistrate Judge Noce issued a brief two-part order on Thursday. It states specifically that Conway may not have any contact, "directly or indirectly," with any Kinloch officials, employees or contractors. It also states that, with the exception of his residence, Conway may not "go onto any property owned or used by the city of Kinloch, or attend any function of the City of Kinloch, official or unofficial."
Things could get interesting on Friday, so stay tuned.