idoc.state.il.us
Mr. Clean or Christopher Coleman?
Three weeks into his
life sentence for killing his wife and two sons
, convicted murderer Christopher Coleman has a new hairdo.
Gone is the short-cropped blond hair he wore during his recent trial and his arrest in May 2009 on charges of strangling his family members as they slept in their beds. Coleman now sports a shiny, bald domed in his mugshot on file with the Illinois Department of Corrections.
The
Belleville News-Democrat reports today
that some prisoners shave their head to appear tougher and so other inmates can't grab hold of it during a fight.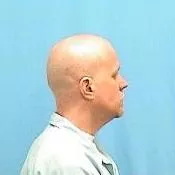 Coleman is currently housed in the Pontiac Correctional Center, which has a maximum security wing for prisoners who could be the target of attack for particularly heinous crimes.
We're not sure exactly where Coleman would stand in the
prison hierarchy of offenders
we wrote about earlier this month, but we're pretty sure he's near the bottom -- with the pedophiles. Coleman allegedly killed his family so he could
marry his mistress
.