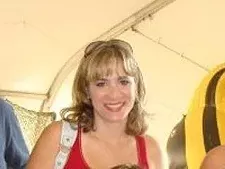 LeDale Nathan is "sorry" he killed Gina Stallis (pictured). Pardon us if we don't feel particularly forgiving.
A St. Louis teenager found guilty of murdering a young mother, Gina Stallis, and nearly killing both her cousin and an off-duty police officer in a deadly home invasion in October 2009 won't be a free man any time soon.

This morning, St. Louis Circuit Court Judge Robert H. Dierker senteced LeDale Nathan Jr. to seventeen life sentences -- plus another 75 years in prison.

Stallis was a 34-year-old nurse and mother of two young boys. Her grandmother and mother were also held at gunpoint that night, and her cousin's girlfriend, off-duty police officer Isabella Lovadina, was shot five times. She was so seriously injured that her condition was initially listed as critical.

Lovadina testified in court today that she may never be able to return to patrolling the streets, according to the St. Louis Post-Dispatch.

Nathan was sixteen at the time of the break-in. He admitted pulling the trigger, but claimed it was an accident. His half-assed attempt an apology during today's sentencing hearing, per the Post-Dispatch: "It was a mistake that happened. A lot of people make mistakes."

A note here to LeDale Nathan Jr., since this matter appears to be unclear: "A lot of people" don't break into an home while armed with shotguns. And "a lot of people" don't fire their guns at a woman whose only crime is being in the wrong place at the wrong time.

"A lot of people" don't go around shooting off-duty cops while they say goodnight to their boyfriends. And "a lot of people" don't leave two young boys motherless.

These kind of "mistakes" don't just happen unless you're driving around with guns looking for homes to break into. And they don't happen unless you pull the trigger.

Apology not accepted. Now go rot in prison for the rest of your life, times seventeen -- plus 75 years. Good riddance.