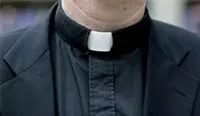 The diocese is on the hook for another $6.35 million after the Illinois Supreme Court refused to hear its appeal.
The Illinois Supreme Court yesterday
refused to hear an appeal of the Diocese of Belleville
-- letting stand a $5 million jury verdict for a former altar boy at St. Theresa's Parish in Salem.
That means -- barring intervention from the U.S. Supreme Court, which would be highly unusual -- the diocese is on the hook for the $5 million jury verdict, plus more than $1 million in interest that's accumulated during the appeal process.
The suit was filed by James Wisniewski of Champaign, Illinois, who said the abuse began when he was just thirteen years old. The priest he accused, Raymond Kownacki, has since been suspended.
The
Belleville News-Democrat
reports that the
diocese settled another lawsuit
focused on Kownacki for $1.2 million. Two other lawsuits regarding the priest are still pending.